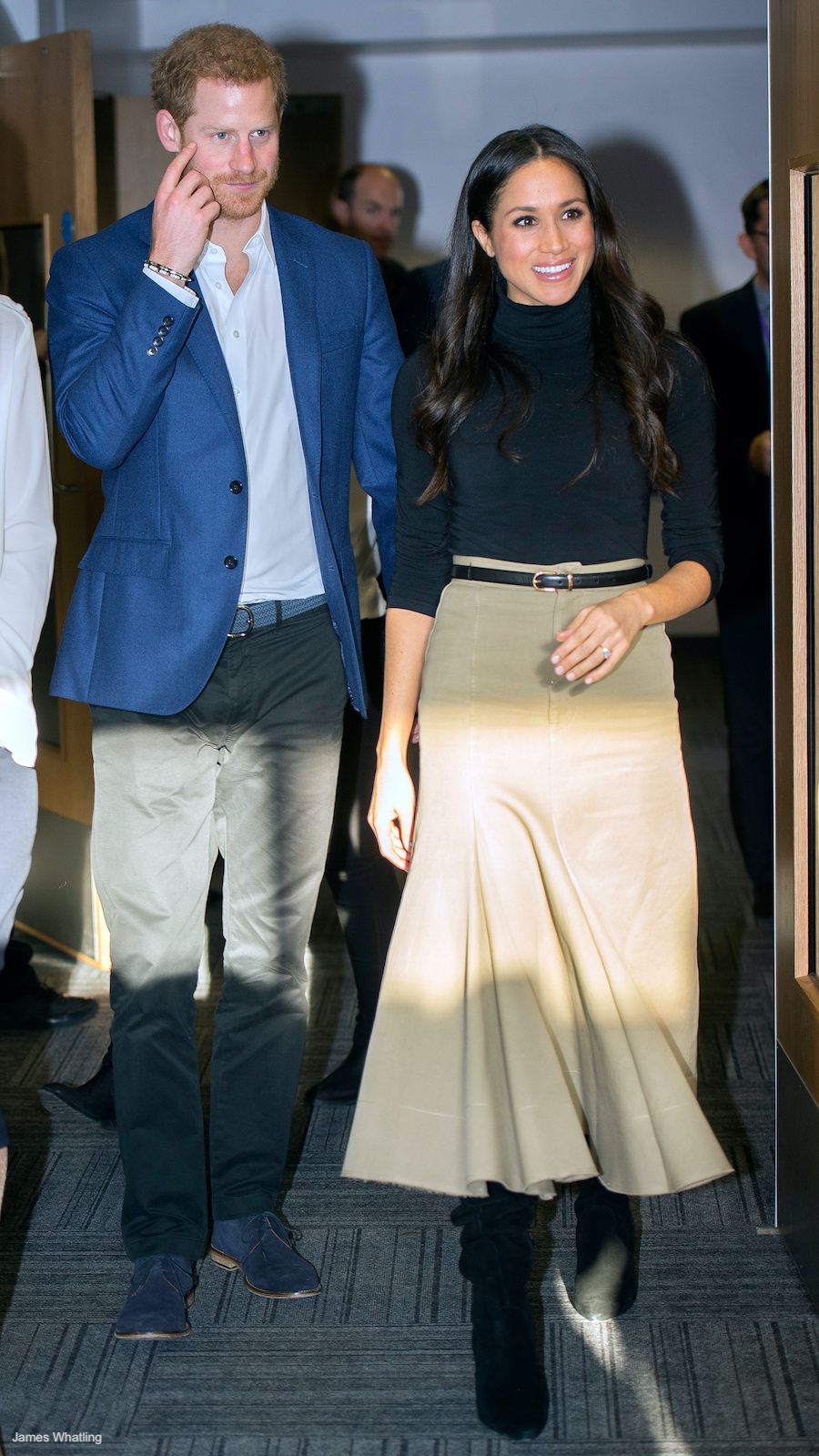 On the 1st December 2017, Prince Harry and Meghan Markle visited the city of Nottingham in the East Midlands.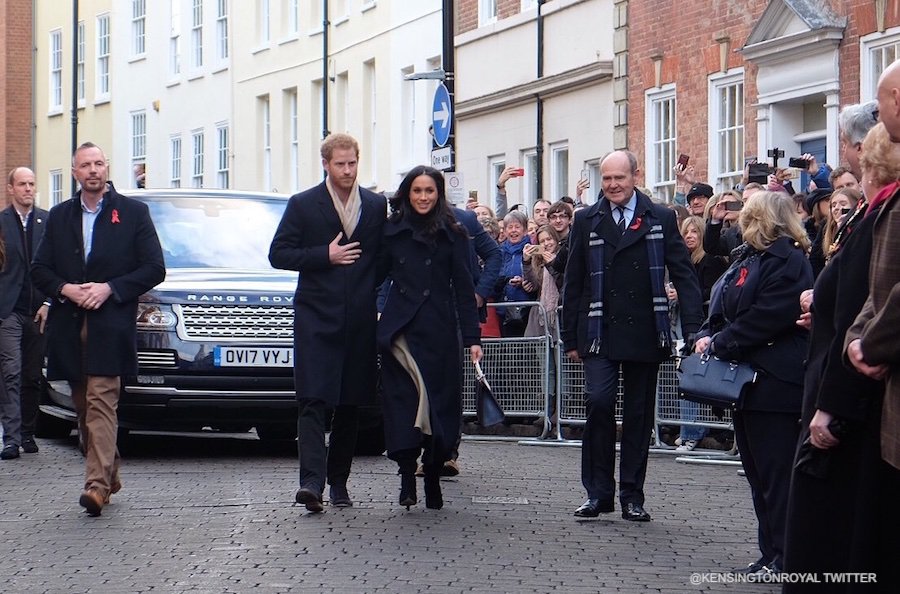 It was the newly engaged couple's first official 'job' together and the first of many for Meghan who will be joining the Royal Family in May.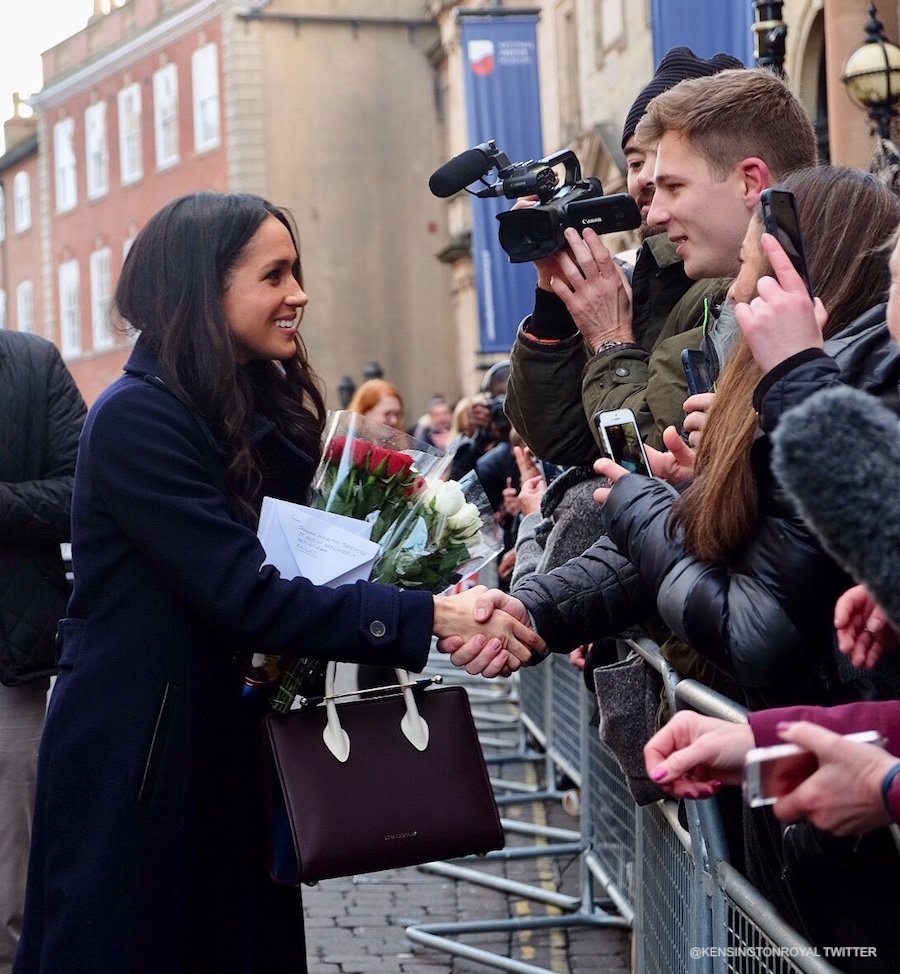 Shortly after arriving in the city, the couple took part in a walkabout outside of the National Justice Museum, meeting with the gathered crowds.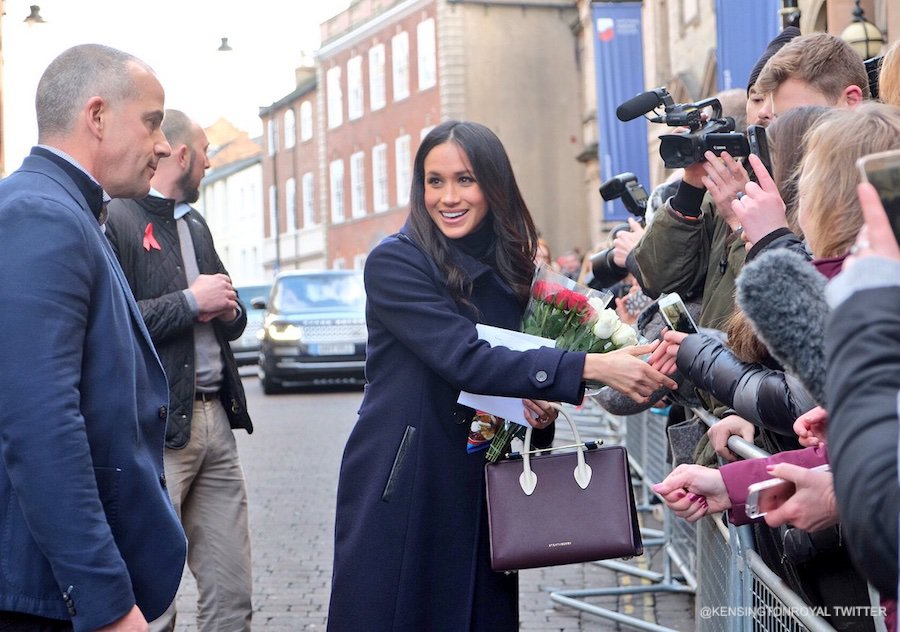 It was Meghan and Harry's first chance to meet the public together.
Thousands of people gathered to offer the newly engaged couple their congratulations: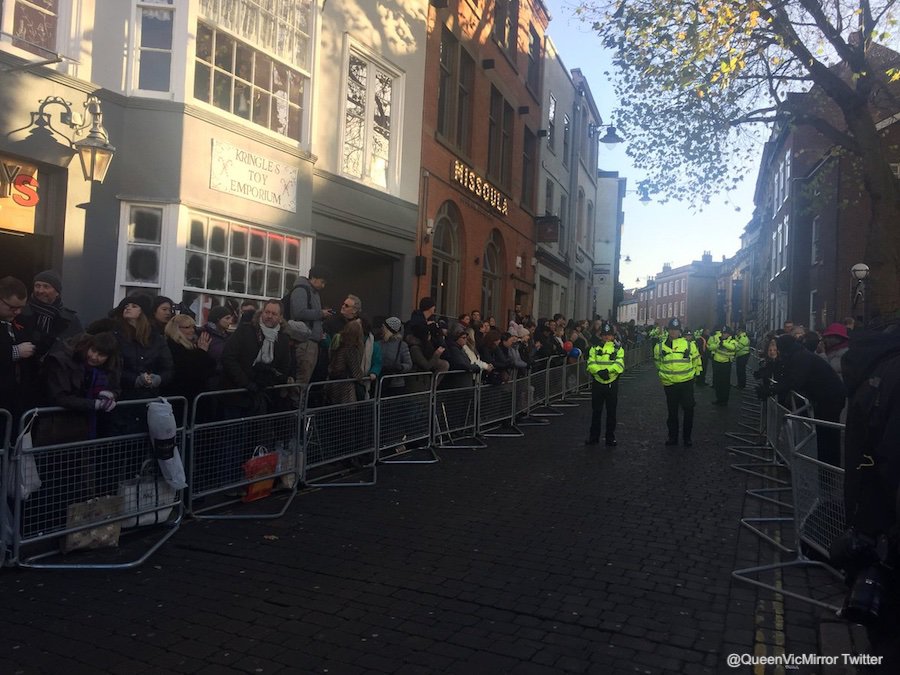 Next, the couple headed inside the Nottingham Contemporary, an international art centre.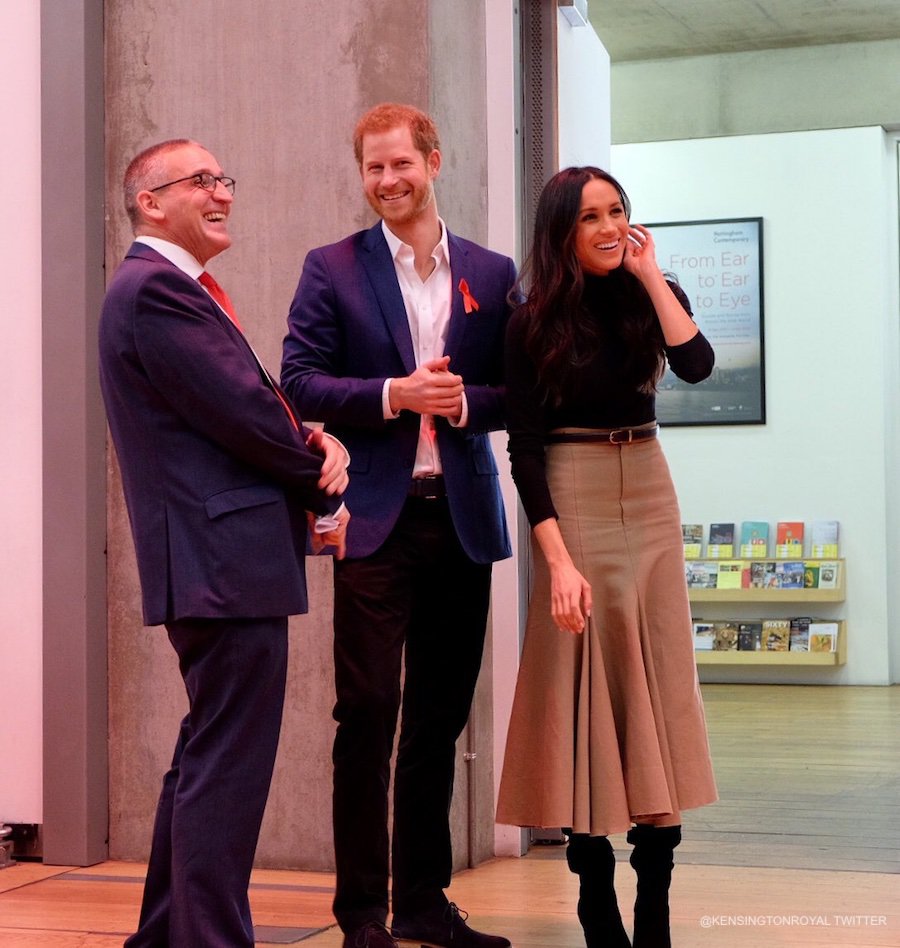 They were at the centre to attend a World AIDS Day charity fair organised by the Terrence Higgins Trust.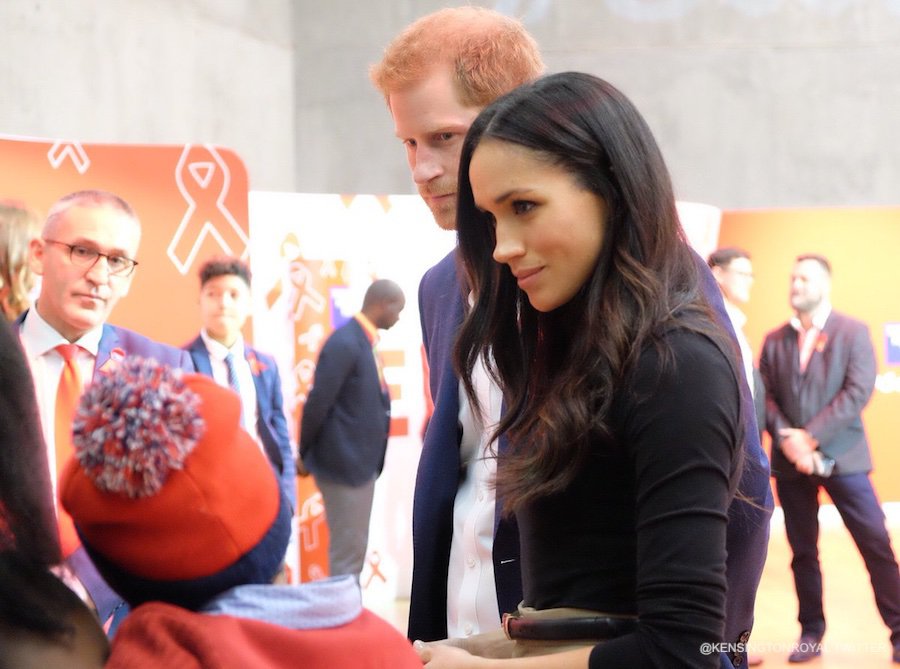 The Terrence Higgins Trust is the largest voluntary sector provider of HIV and sexual health services in the UK.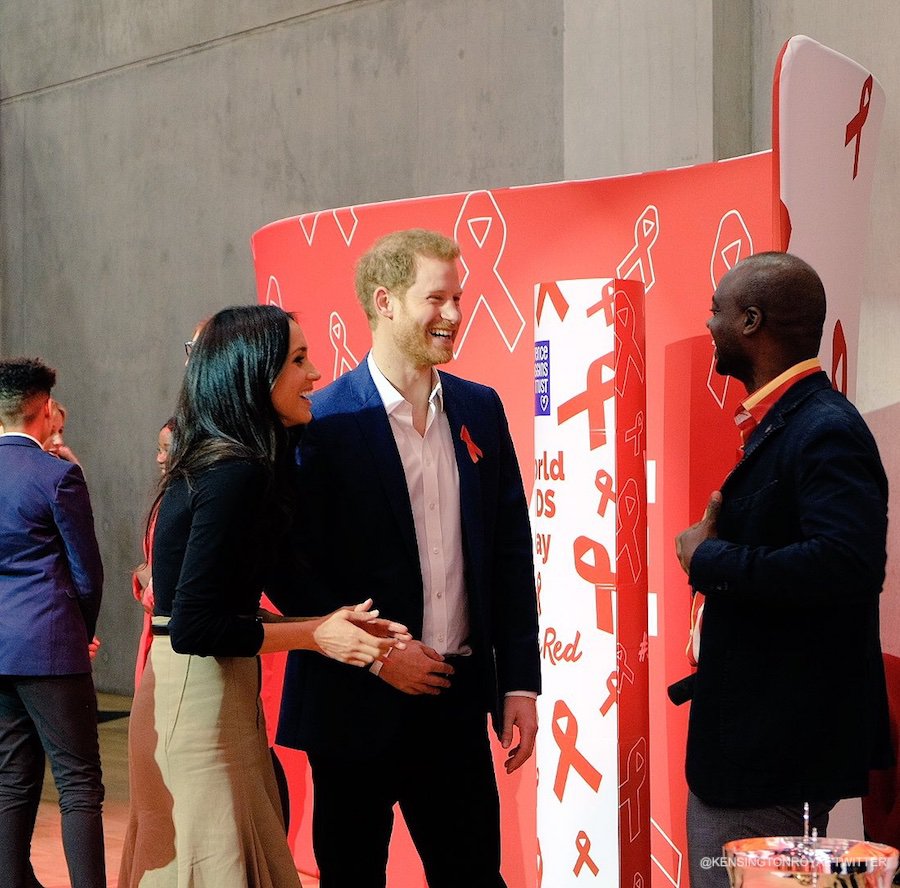 The charity wants everybody to "See Red" in solidarity with people with HIV/AIDS and fight the stigmas that surround the disease.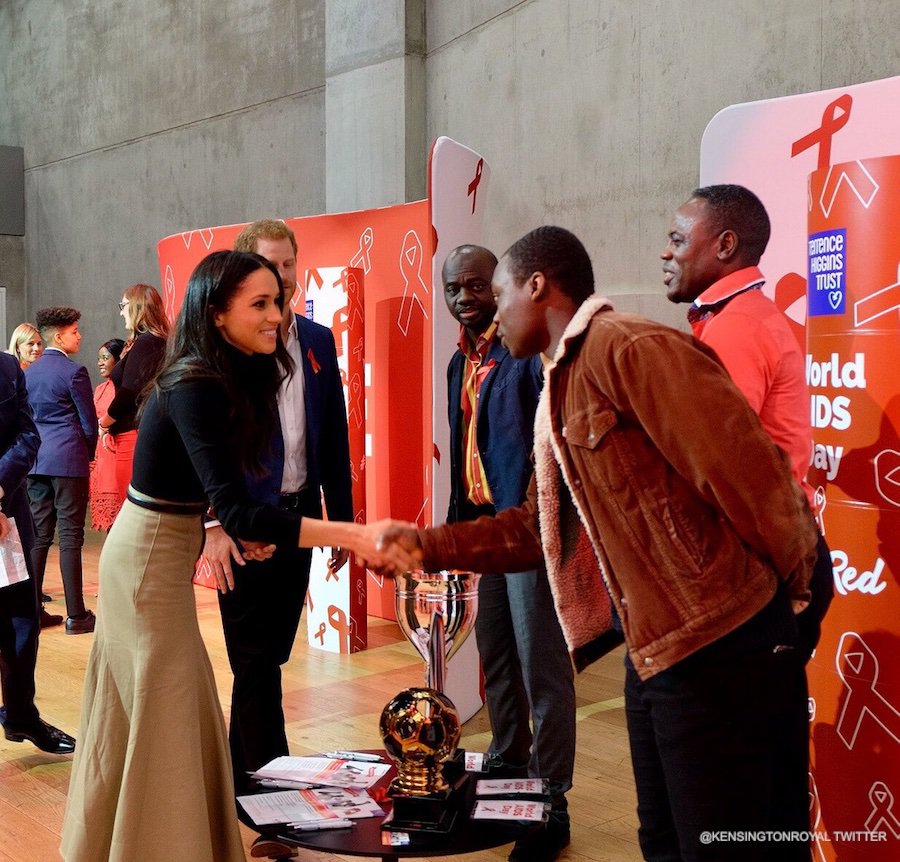 The couple walked around the fair, meeting with representatives from organisations supporting people living with HIV/AIDS.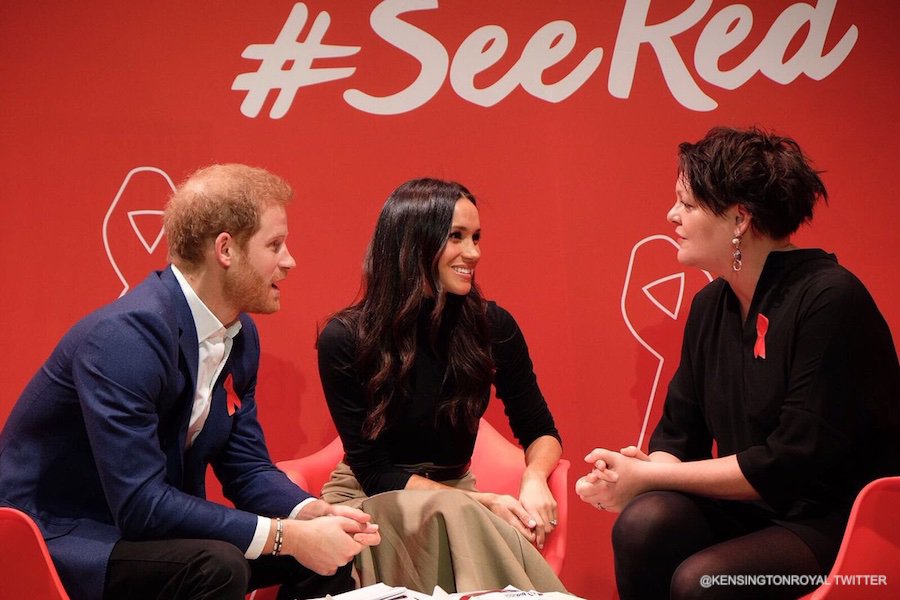 At each stall, Meghan and Harry spoke with people who work with the Terrance Higgins Trust in Nottingham to encourage people to get tested.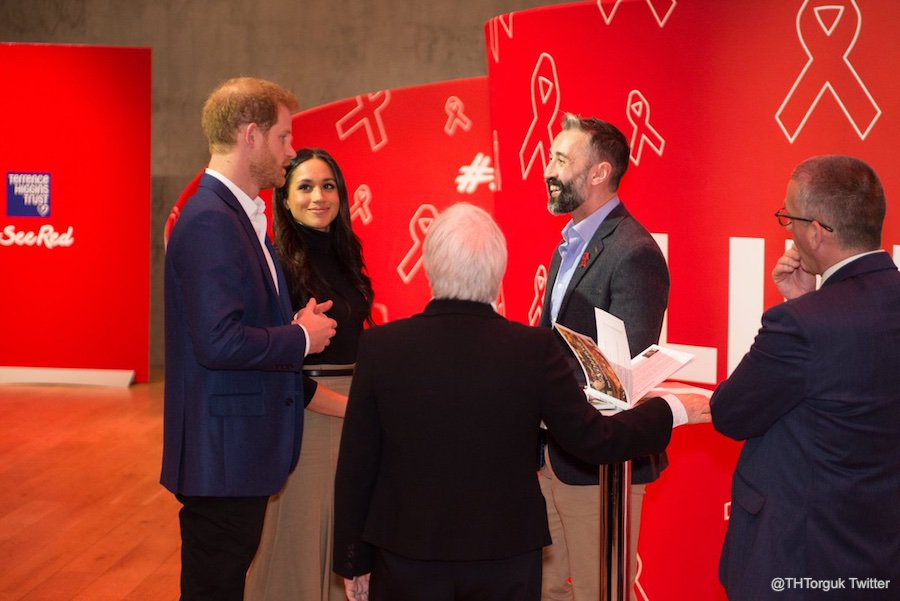 Next, the couple travelled across the city to the Nottingham Academy to see the work of Full Effect, an organisation that aims to reduce youth violence and crime in the St. Ann's area of Nottingham.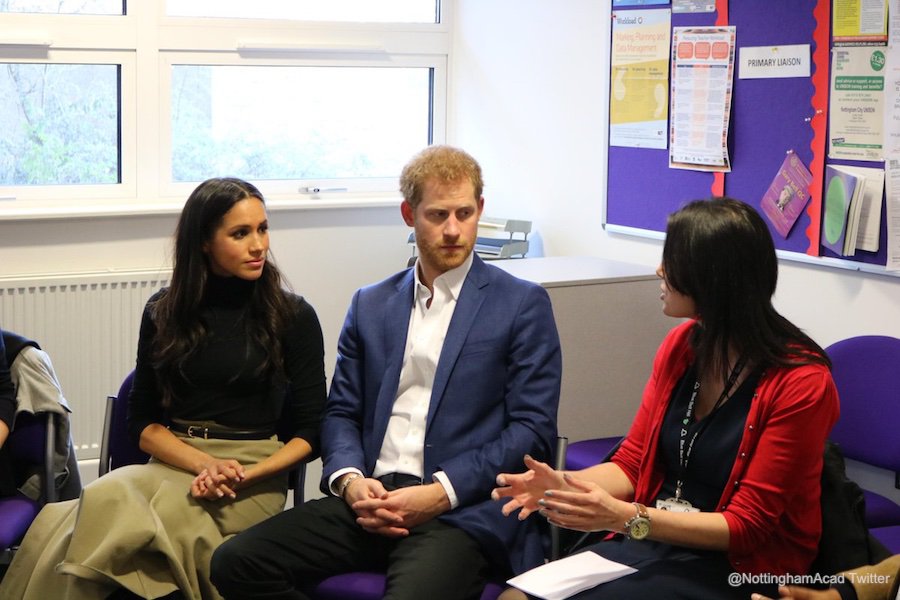 The organisation works with Young Leaders and primary schools to identify and support children and young people from becoming involved in youth violence and crime through a combination of early intervention, mentorship, and training.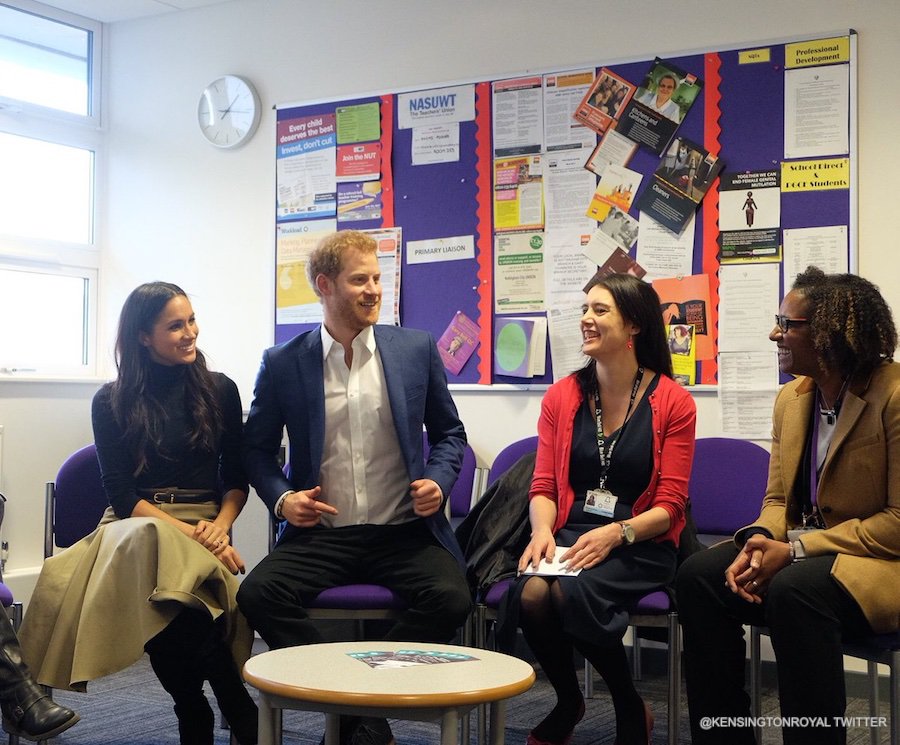 Prince Harry established the Full Effect programme through The Royal Foundation in 2014.
"The Royal Foundation works with Epic Partners, the Community Recording Studio (CRS) to deliver Full Effect; a project to improve the opportunities for young people and reduce youth violence in St Ann's, Nottingham."  – Full-Effect.org
Full Effect delivers a variety of engaging projects that offer young people skills, training, and life opportunities.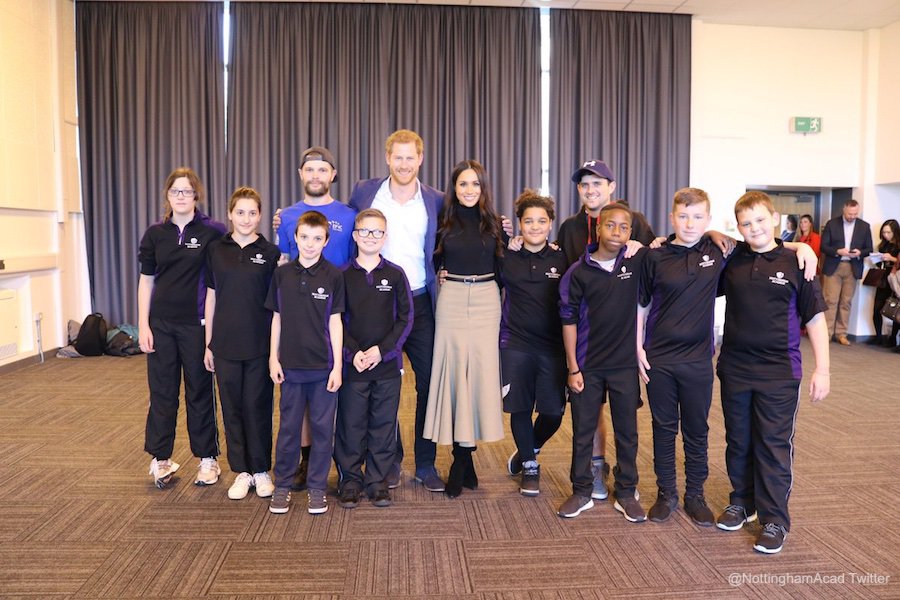 During their visit to Nottingham Academy, Harry and Meghan heard from head teachers about Full Effect and the impact it has on their school communities.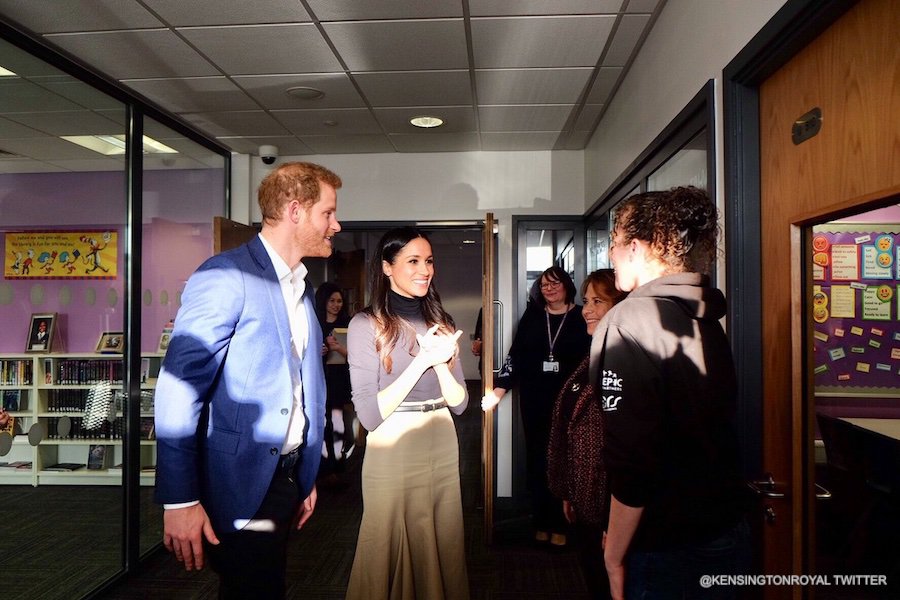 Below, Harry is pictured introducing Meghan to Chantelle Stefanovic, somebody he's known since 2013.  The pair attended the Obama Foundation summit in Chicago in October, where Chantelle delivered a speech.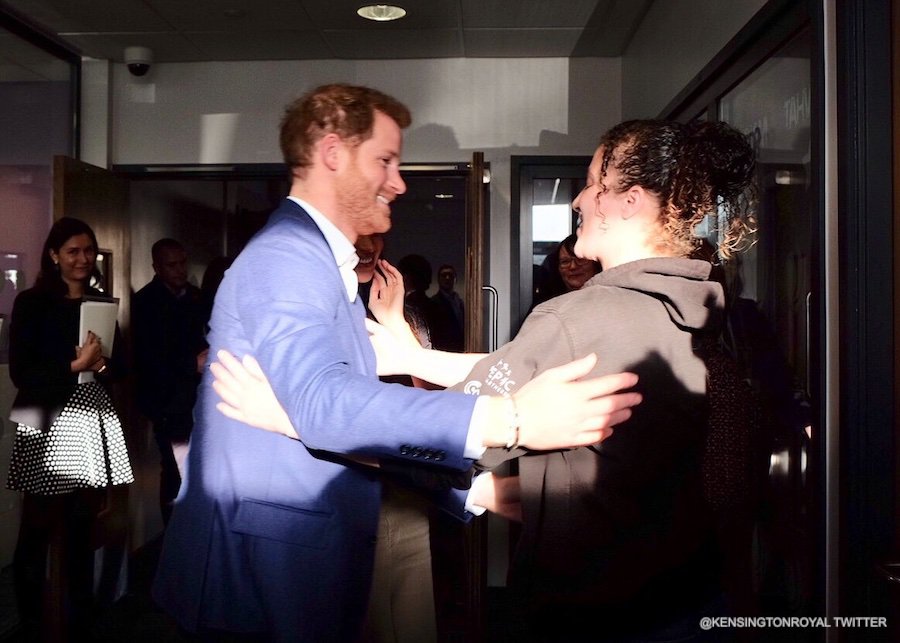 Chantelle introduced Harry and Meghan to some of the young women she mentors.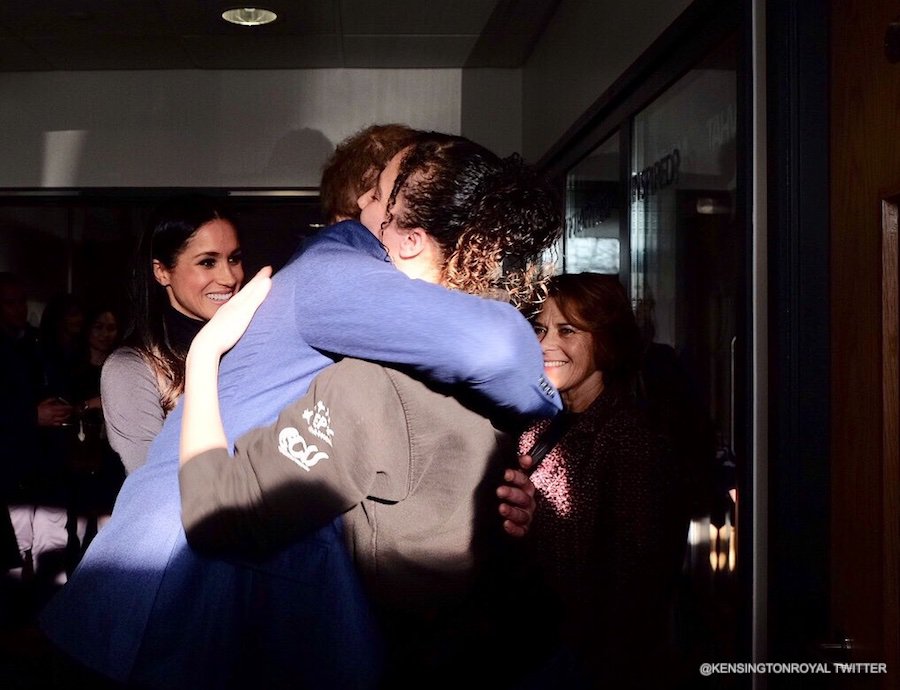 Next, the couple met with children taking part in a kickboxing session.  Full Effect started the kickboxing club in September and it takes place on Friday nights. It helps children make friends in their community and prevents them from becoming involved in youth crime.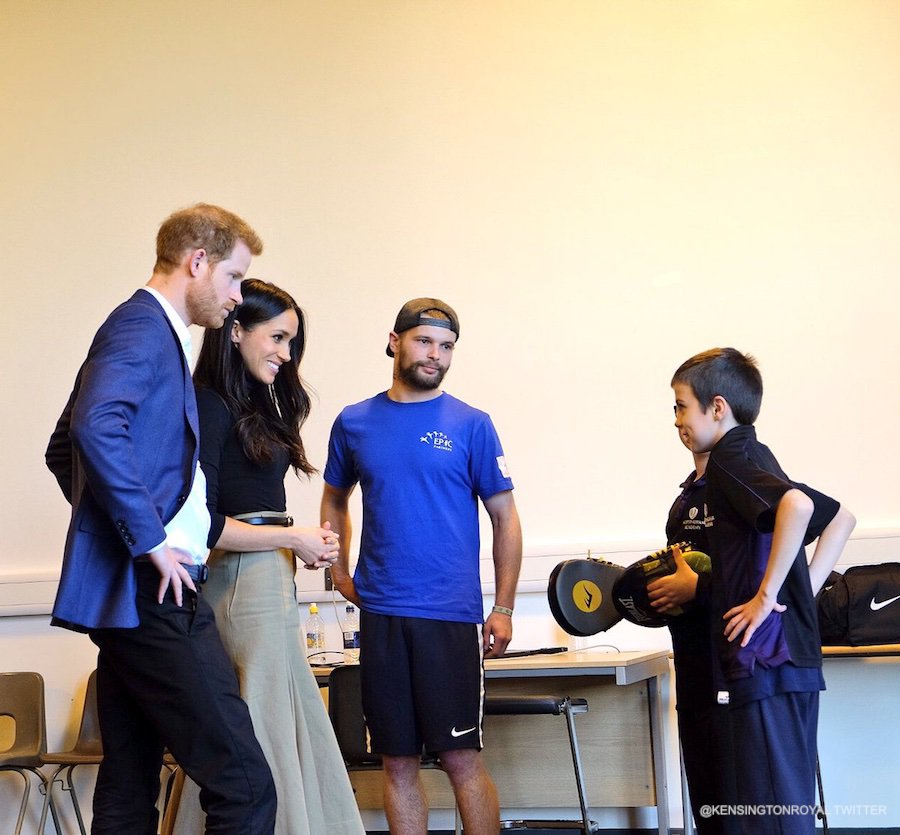 Finally, Meghan and Harry watched students perform a "Hip-Opera".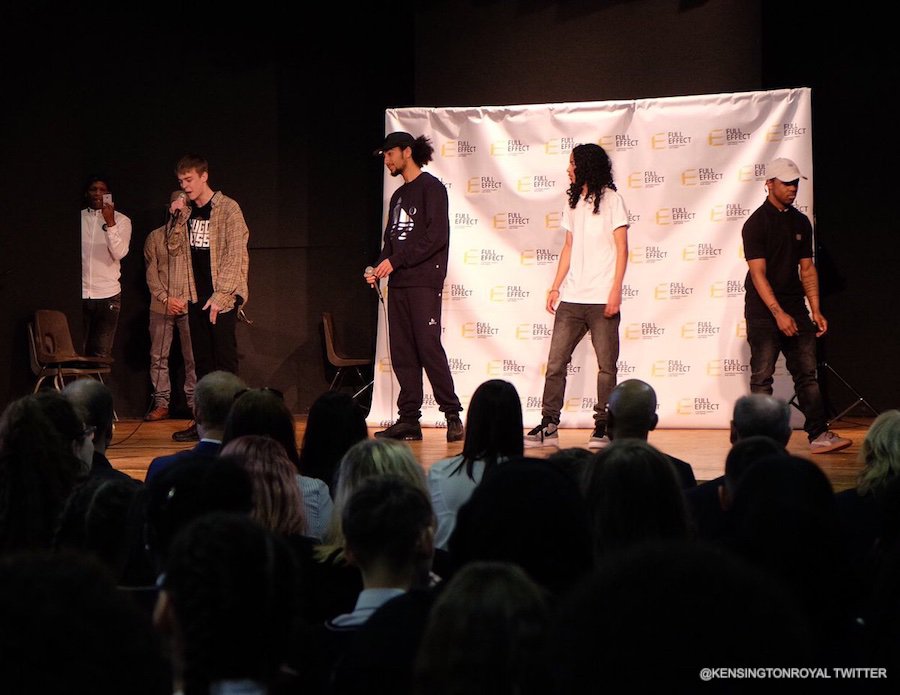 After, they met the cast on stage.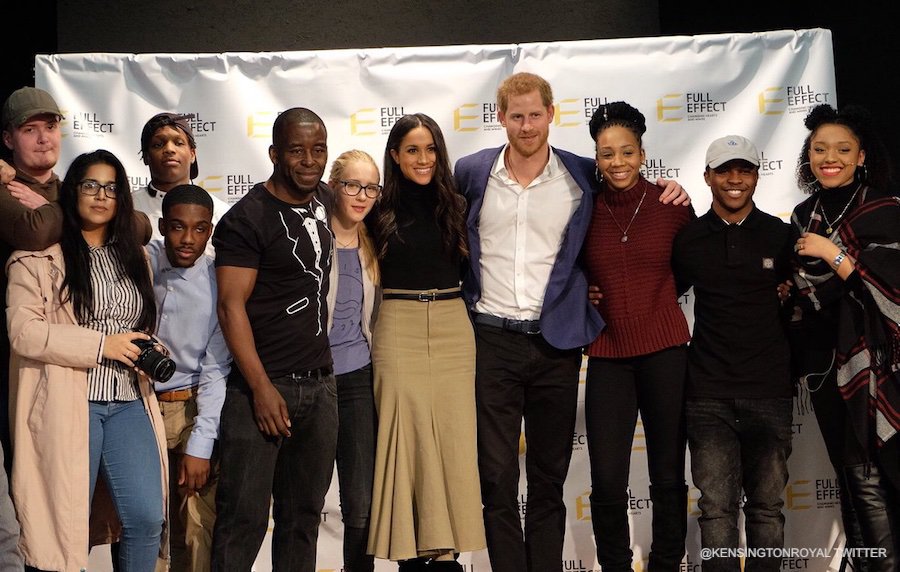 Before leaving Nottingham Academy, Meghan received a posy of flowers from some school children.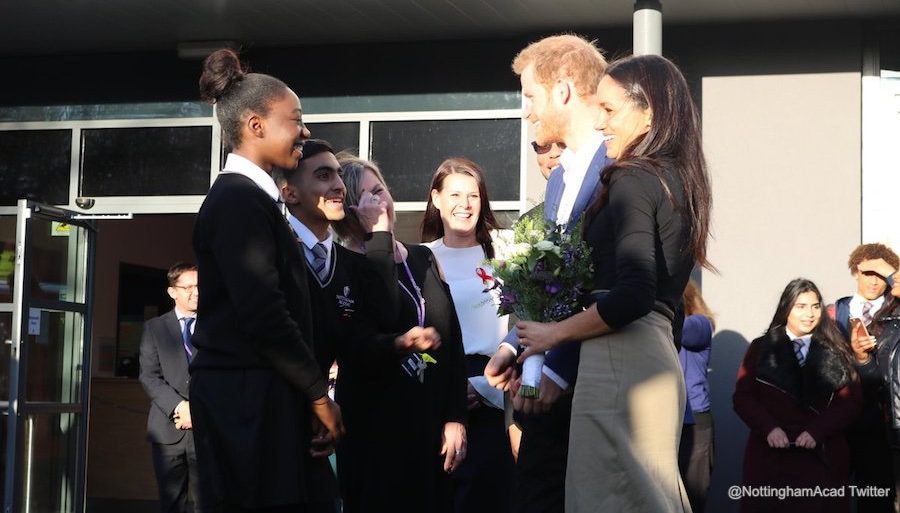 Meghan's outfit:
Meghan chose a mixture of British and Canadian brands for her big debut.  (Of course, Meghan recently lived in Canada while filming her TV show Suits).  She chose a navy blue full-length coat by Montreal-based Mackage.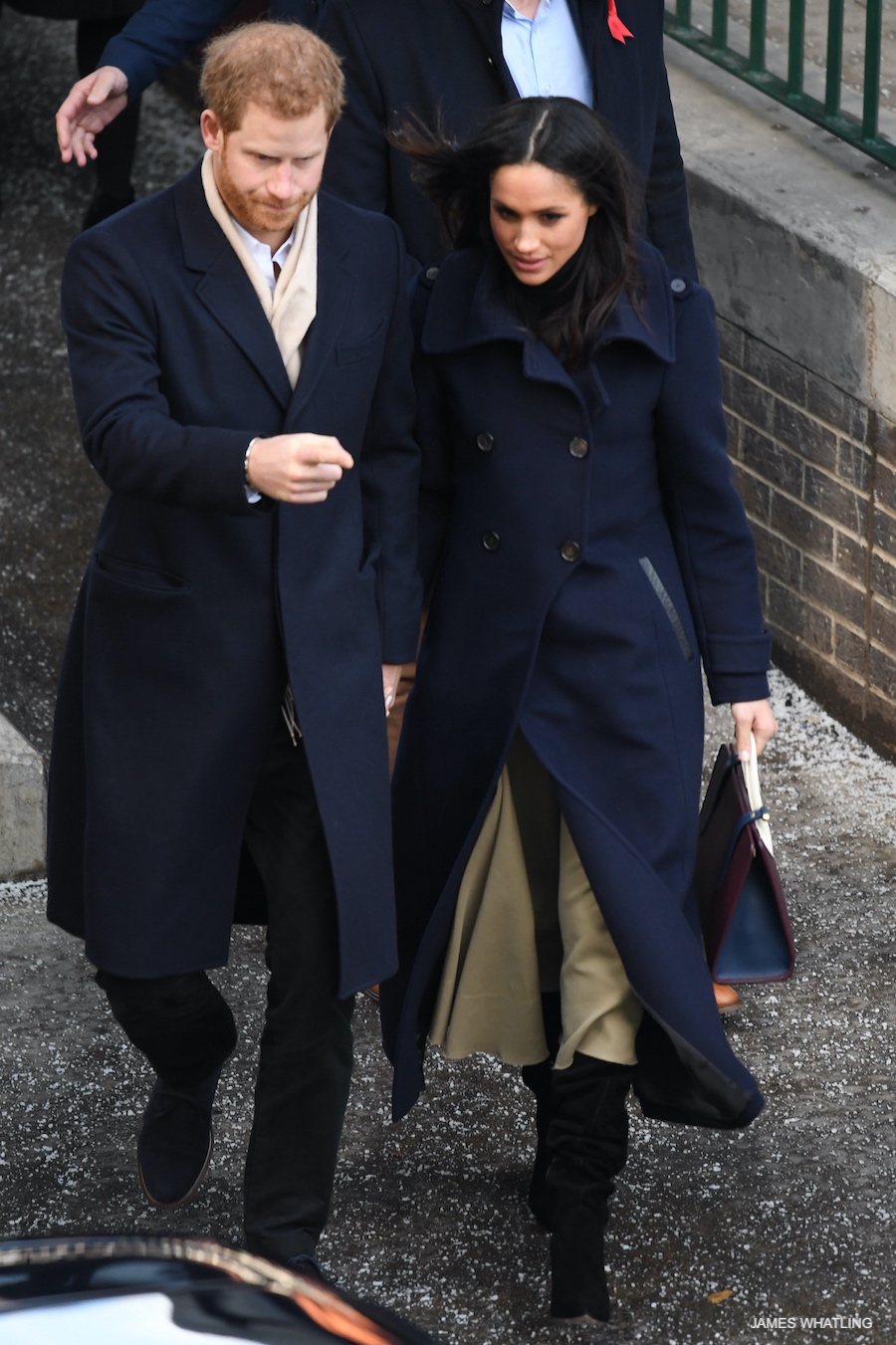 The coat is made from a luxury cashmere blend fabric.  It is semi-fitted with a funnel collar, double-breasted front, leather-lined welt pockets and buttoned epaulets on the shoulders.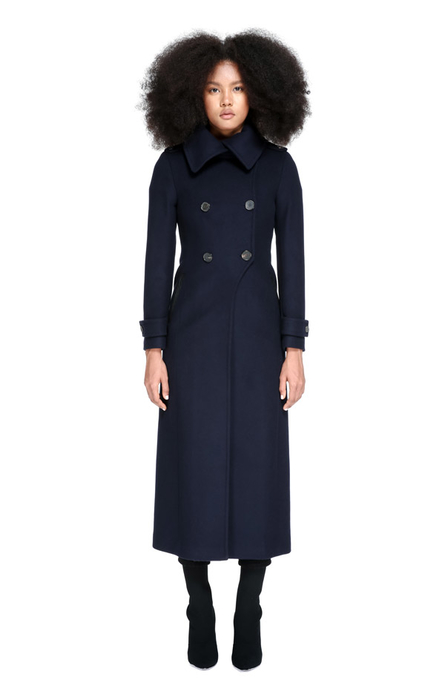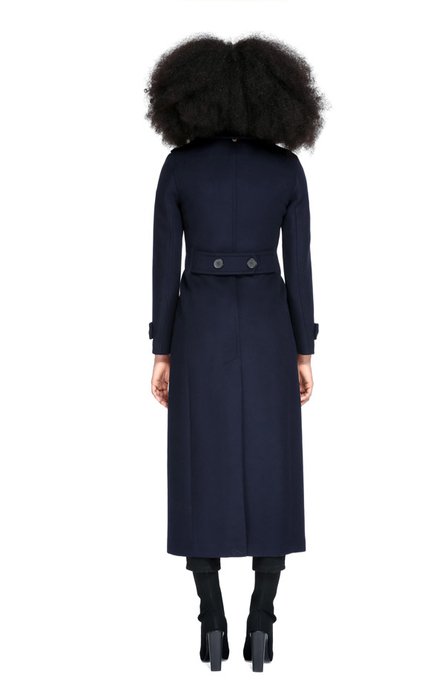 The stunning coat quickly sold out after Meghan was photographed wearing it, but Mackage is currently accepting pre-orders on their website.  Click here to pre-order.
Meghan already owned the coat and wore it last year.  PEOPLE magazine learned that Meghan's best friend and stylist reordered the coat and had it sent to Kensington Palace, especially for Meghan's Nottingham visit.
Let's take a look at Meghan's top and skirt next: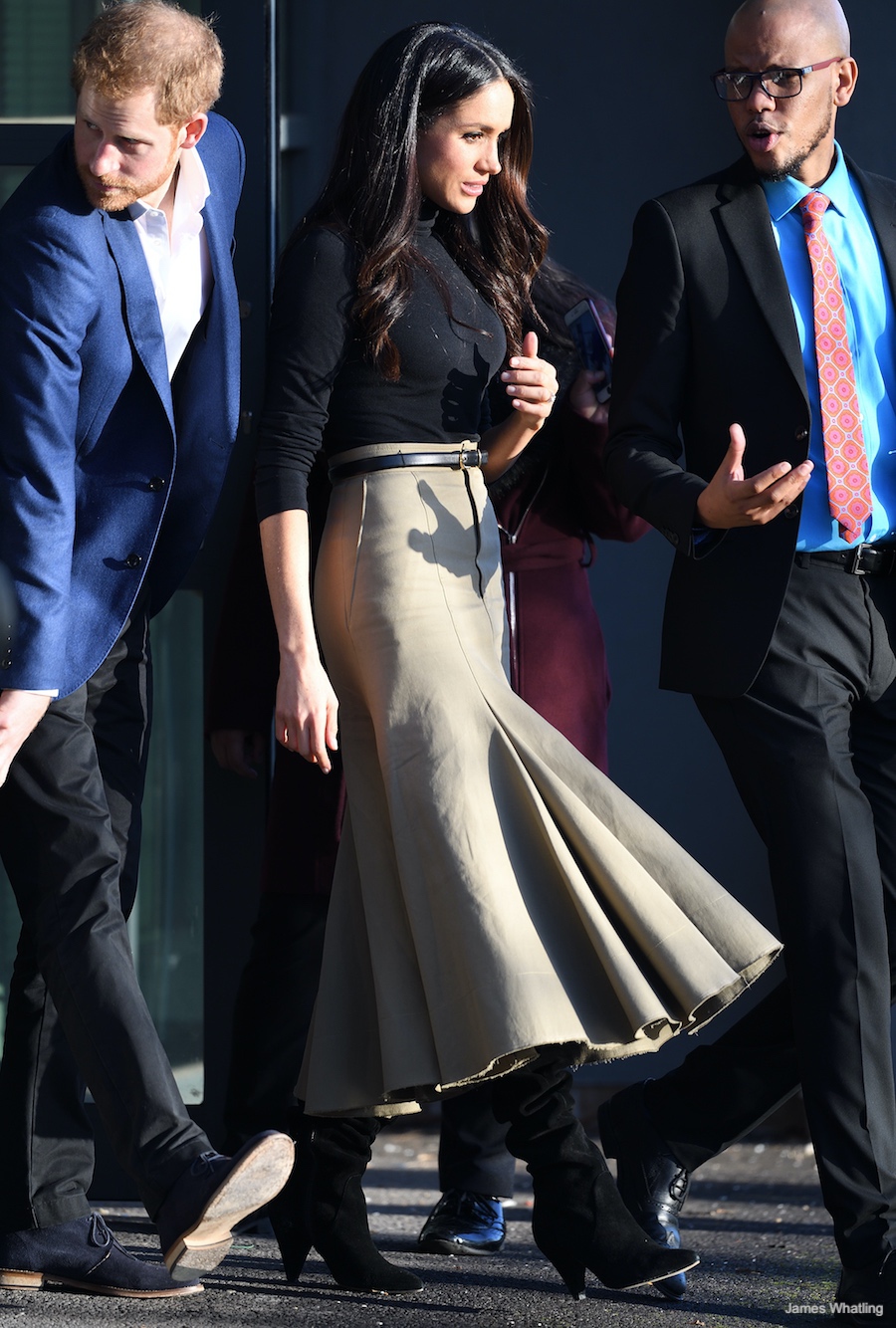 Austrian brand Wolford confirmed that Meghan wore their Colorado Bodysuit for the Nottingham visit.   The bodysuit is made from soft, smooth, comfortable cotton with has a 'captivating sheen' on the outside.  It features long sleeves and a turtleneck.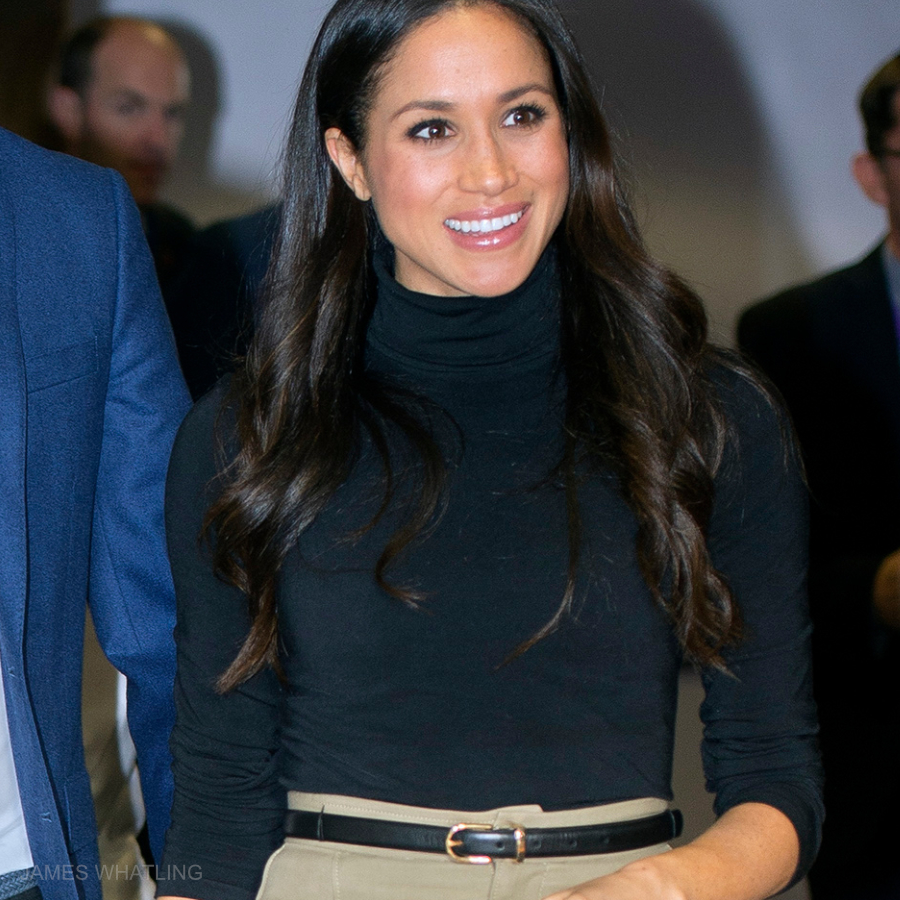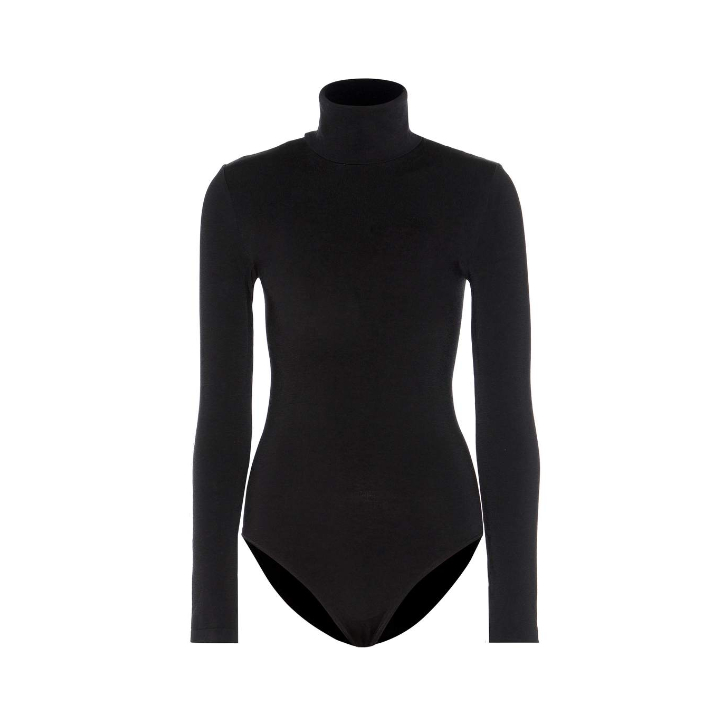 A Wolford rep told PEOPLE that Meghan owns the bodysuit in white too.  Apparently, she bought it from the company's New York store.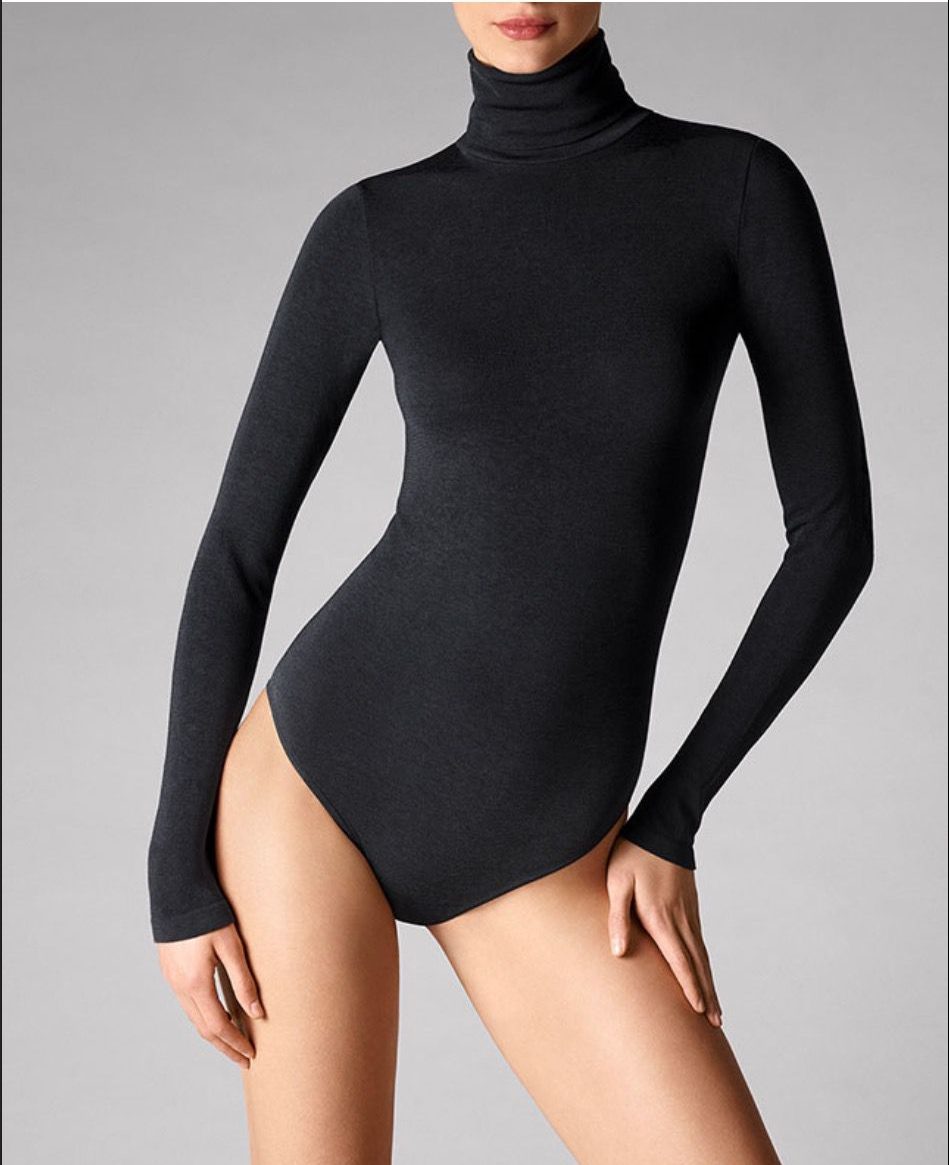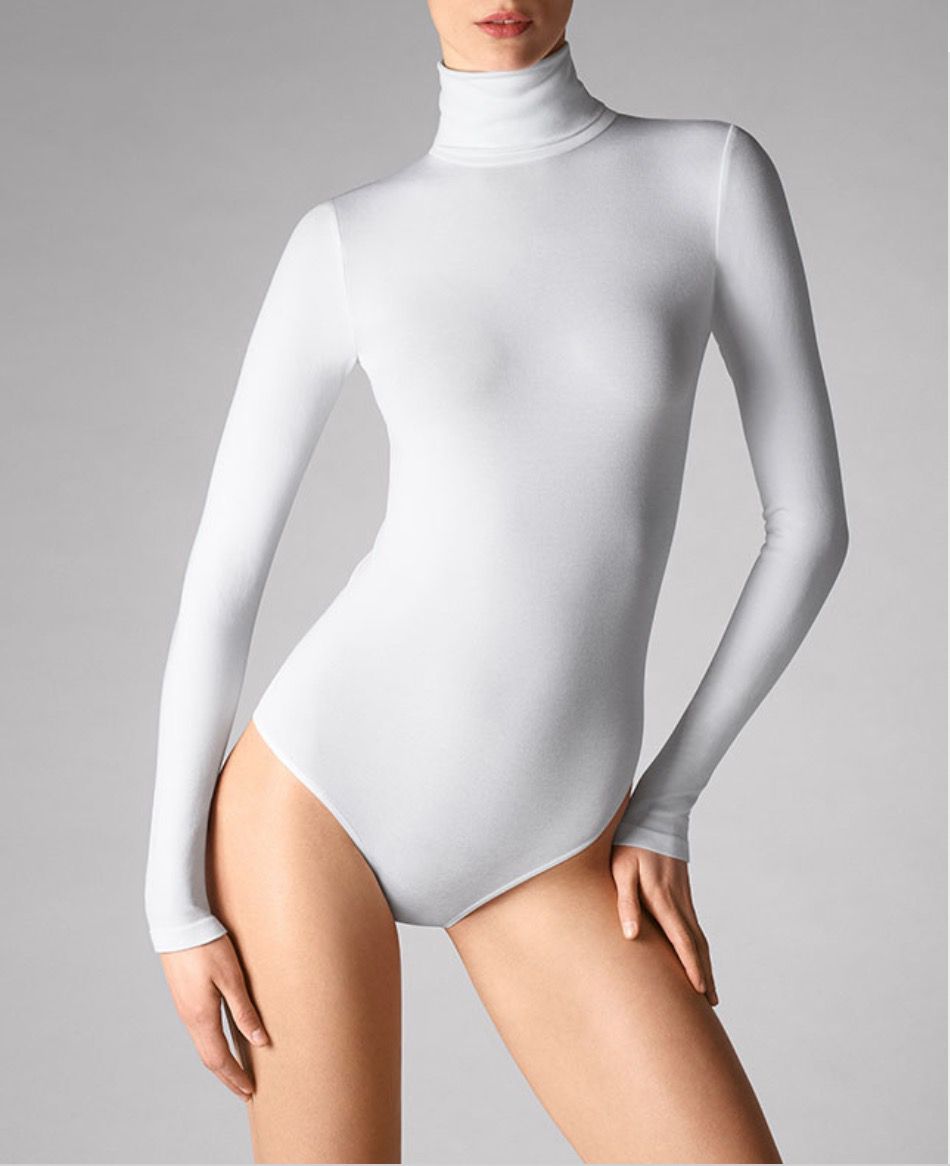 If you'd like to copy Meghan's style, you'll be pleased to learn the top can still be purchased from Wolford, Harvey Nichols and Barneys New York (more places listed on this page).
Next, let's look at Meghan's beige skirt. It's from London-based clothing branch Joseph.  It's their Laurel Midi Skirt.  It's made from a cotton-silk fabric and features a fit-and-flare silhouette, high waistline, soft pleats, and an unfinished hem.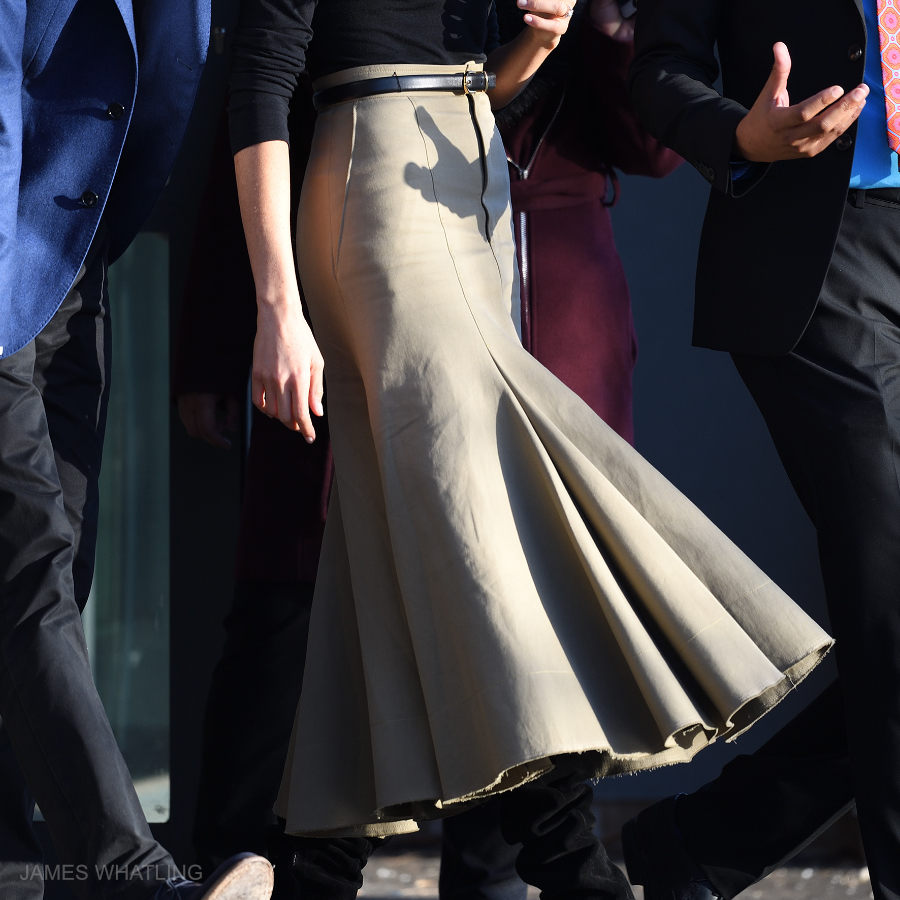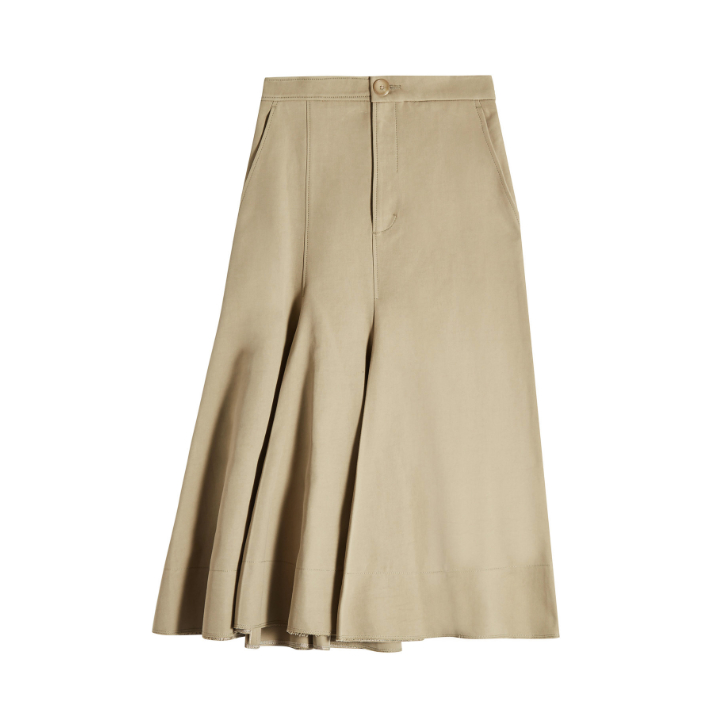 At the time of writing, it's sold out at Joseph-Fashion.com.  It has also sold out at Net-A-Porter.com, Stylebop.com, FarFetch.com, SSense.com, MyTheresa.com and MatchesFashion.com.  If you'd really like the skirt, it's worth checking those websites. You might get lucky – orders are regularly cancelled or returned.
UPDATE:  Joseph confirmed via email that they'll be restocking the skirt soon.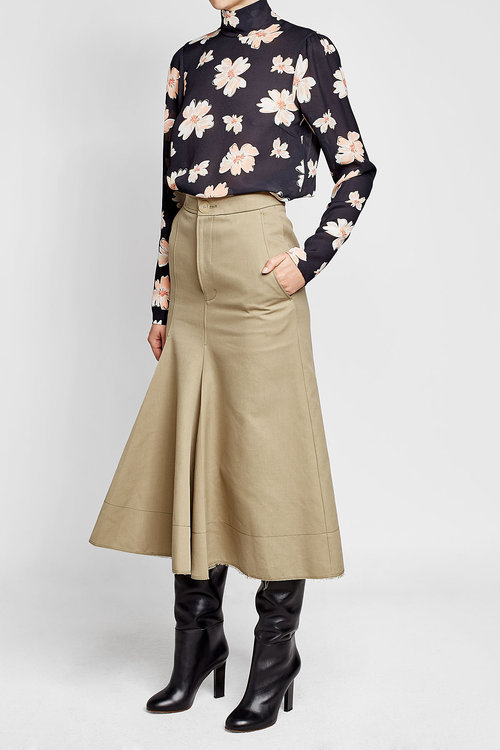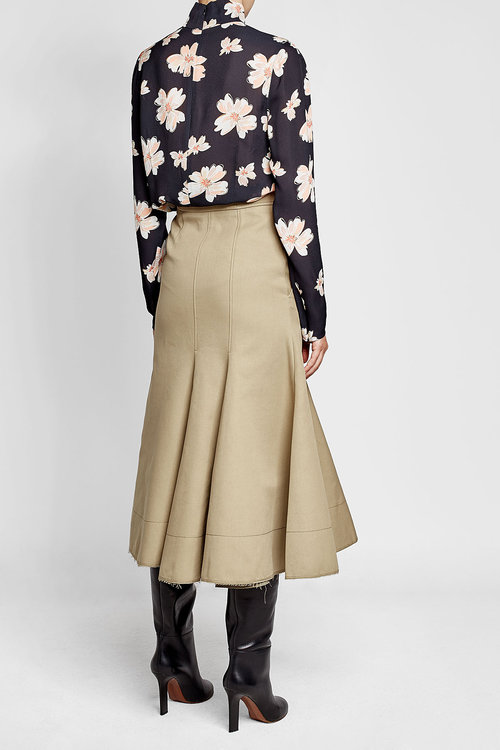 Meghan's handbag is from Scottish brand Strathberry.  It's their Midi Tote in burgundy, vanilla white and navy blue.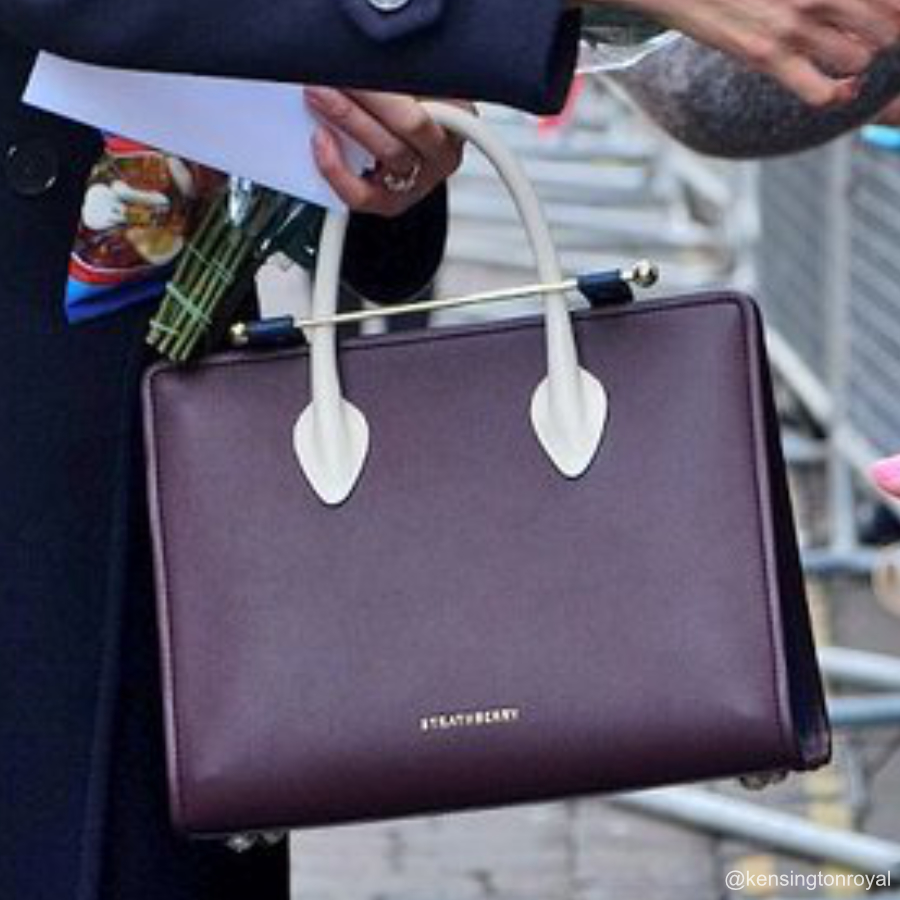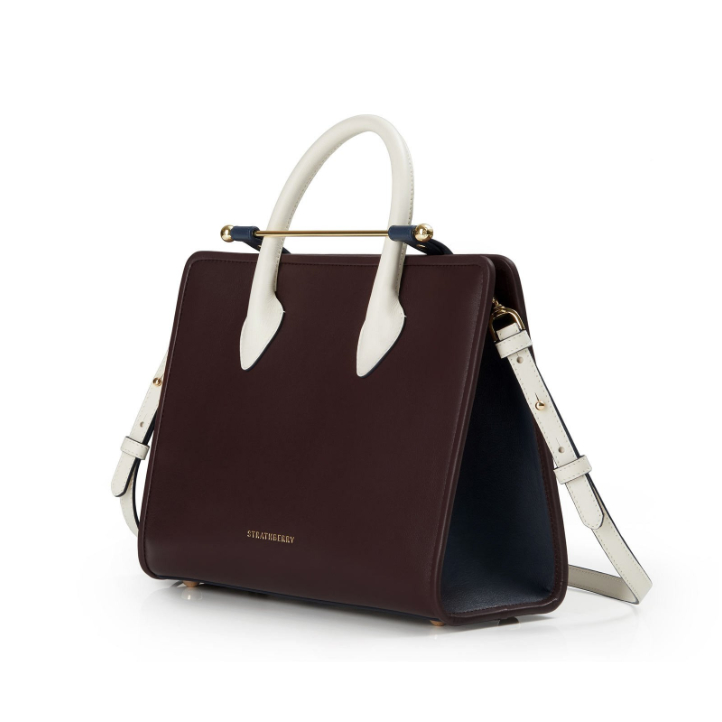 The sophisticated, chic bag is made from leather, which is given a suede-like finish.  It's lined with microfibre and features one of Strathberry's signature bar closures across the handles.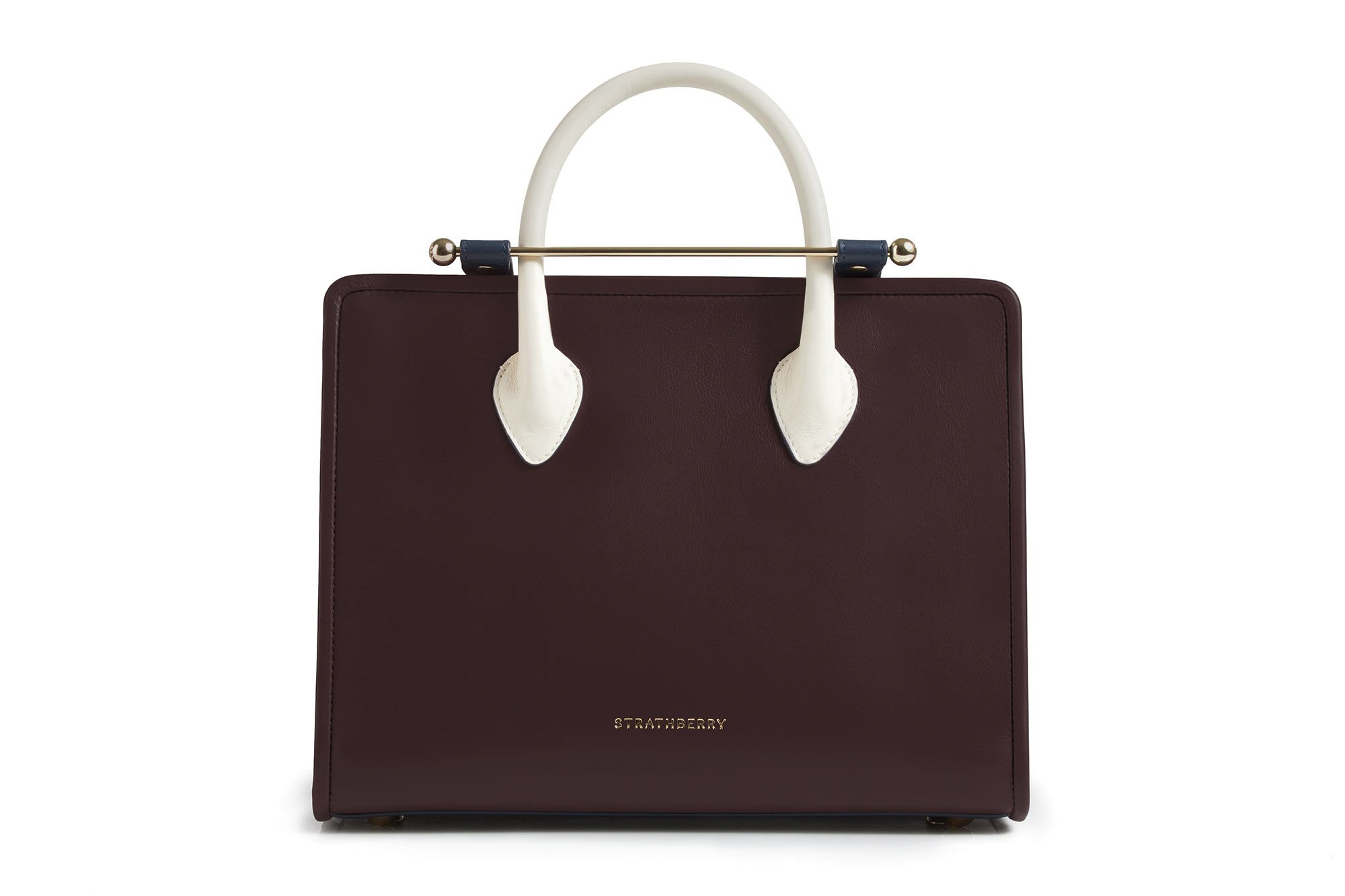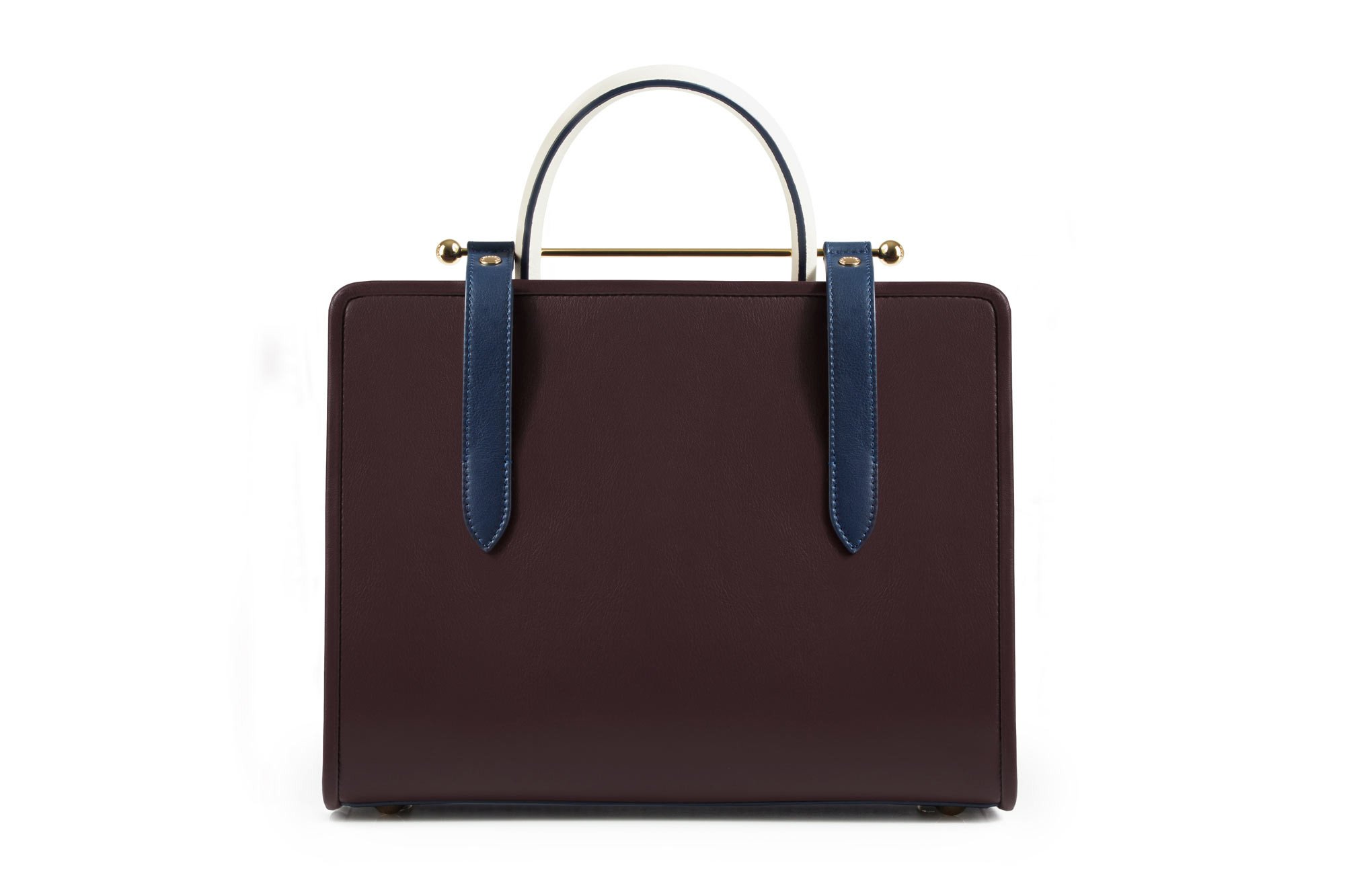 The bag is currently unavailable for purchase, but the company will be restocking soon.  Click here to check out the Strathberry website.
Let's look at Meghan's boots next.  They're the Violet boots by British brand Kurt Geiger.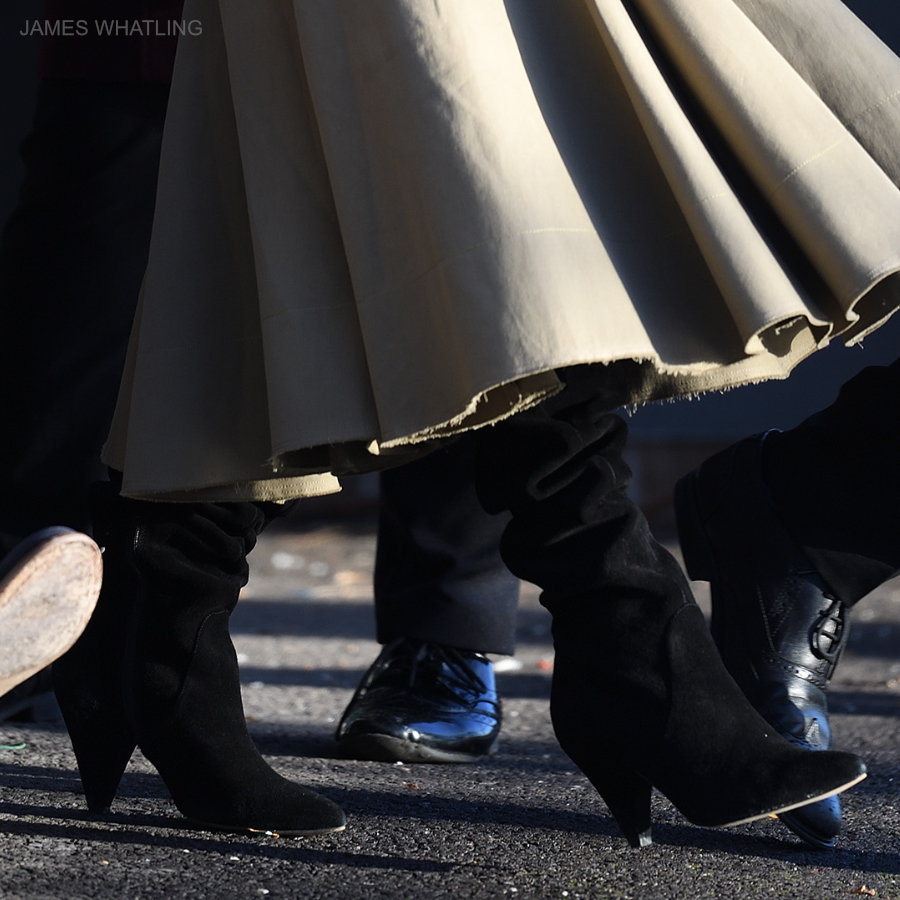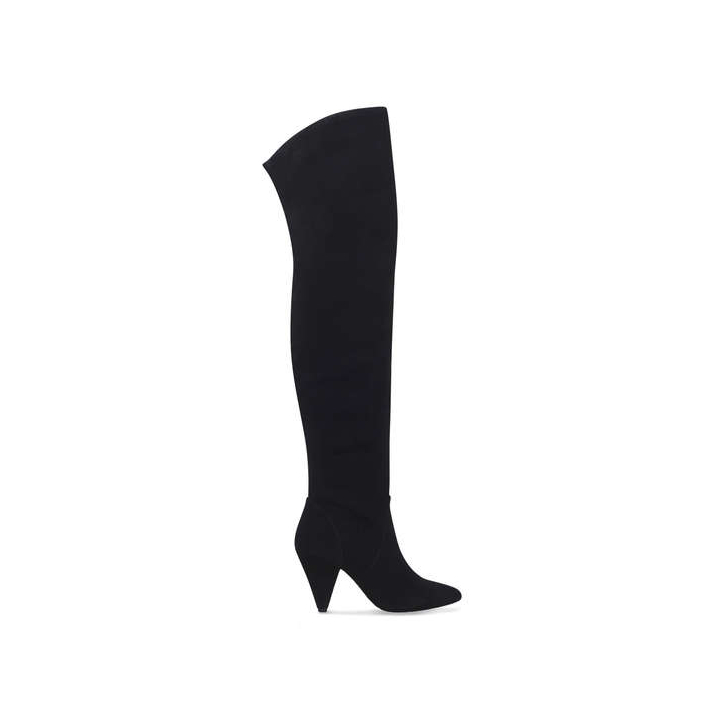 The over-the-knee boots, which are made from black suede, feature a stylish cone heel and a pointed toe.  They're still available for purchase at Kurt Geiger, Selfridges, and Debenhams in limited sizes.
UPDATE:  If your size is not available, You can pre-order the boots on Kurt Geiger's website – click here.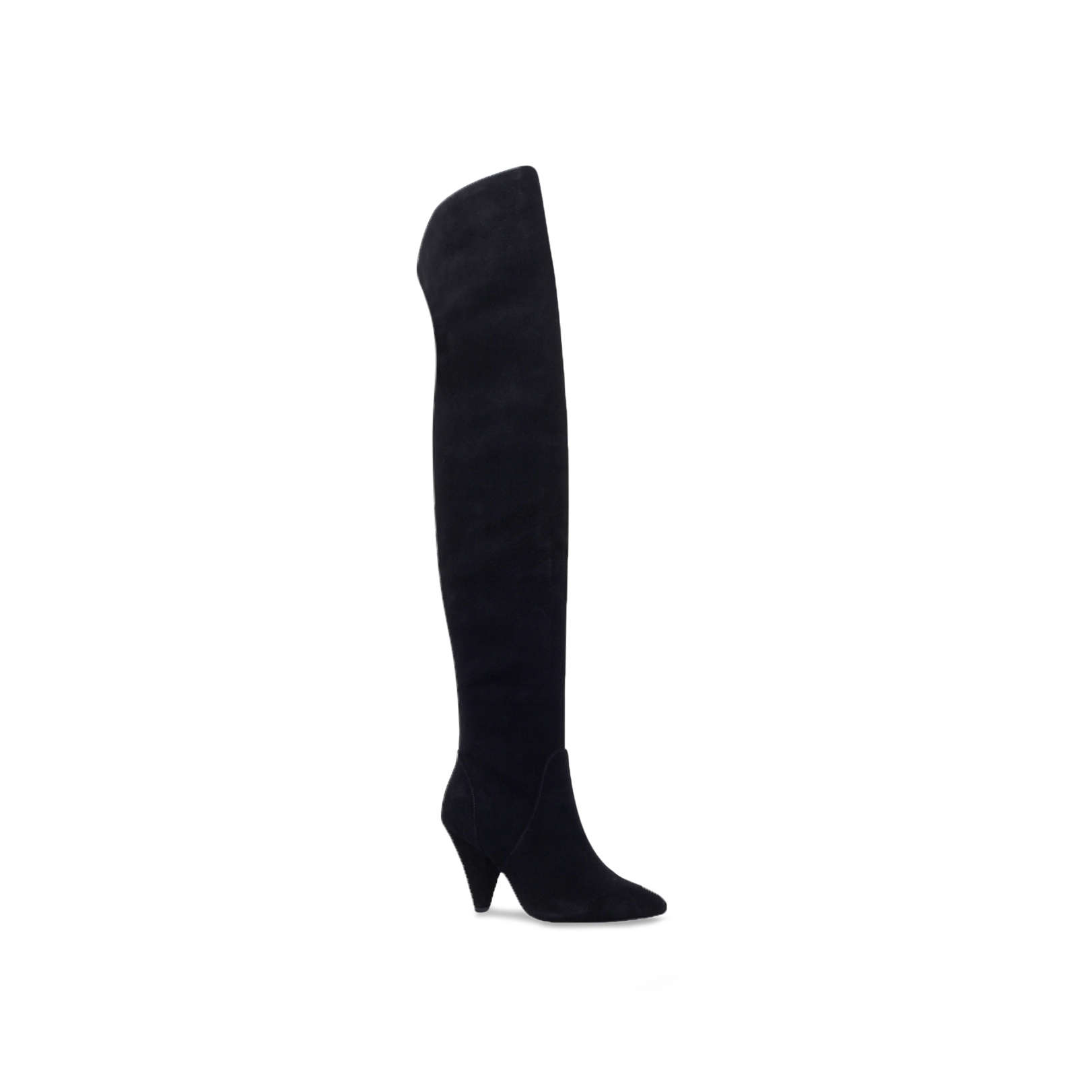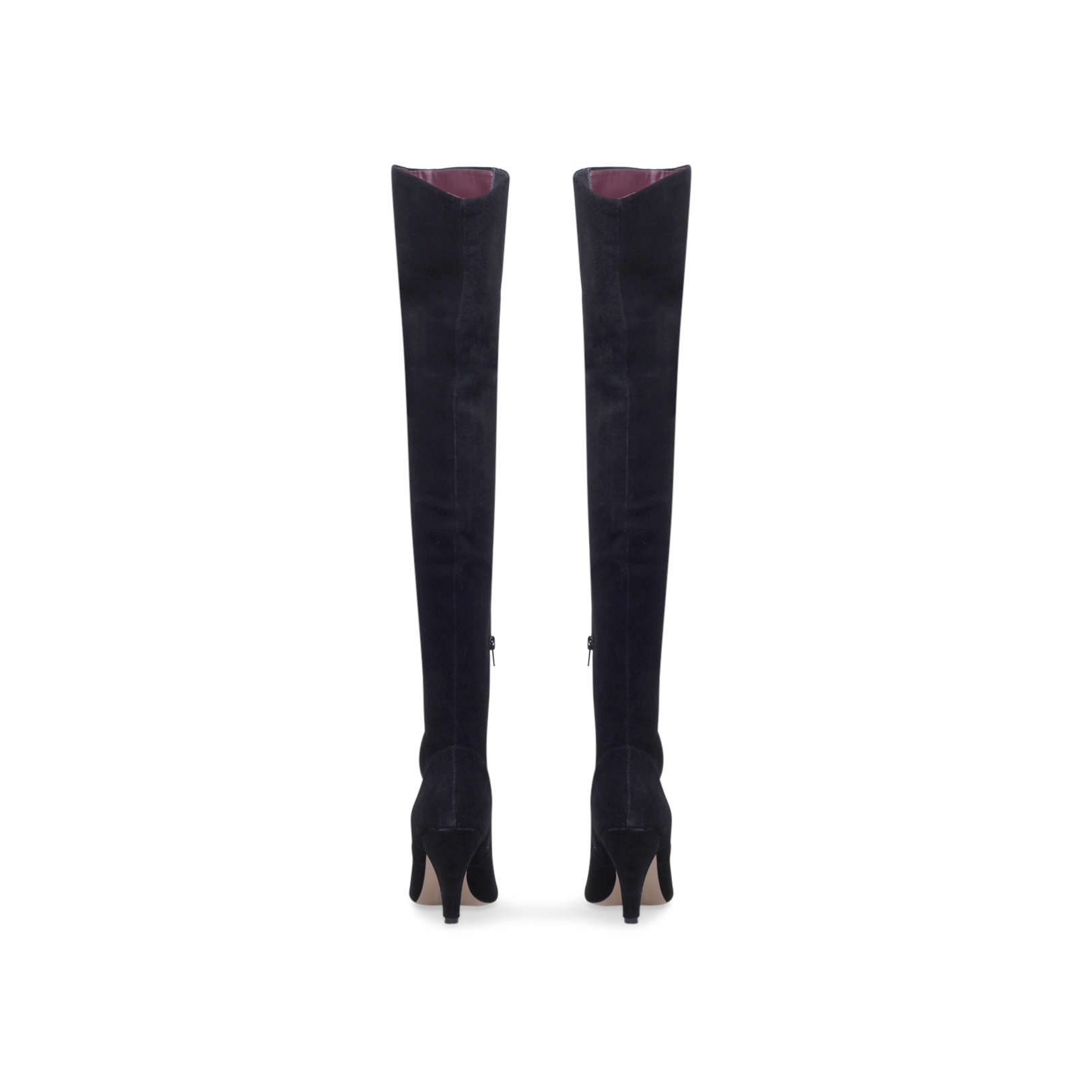 I wanted to say thank you to the following lovely ladies for their help: @MeghansFashion, @MadAboutMeghan, @WhatMegWore, @PerthFashion, and @MeghansMirror.