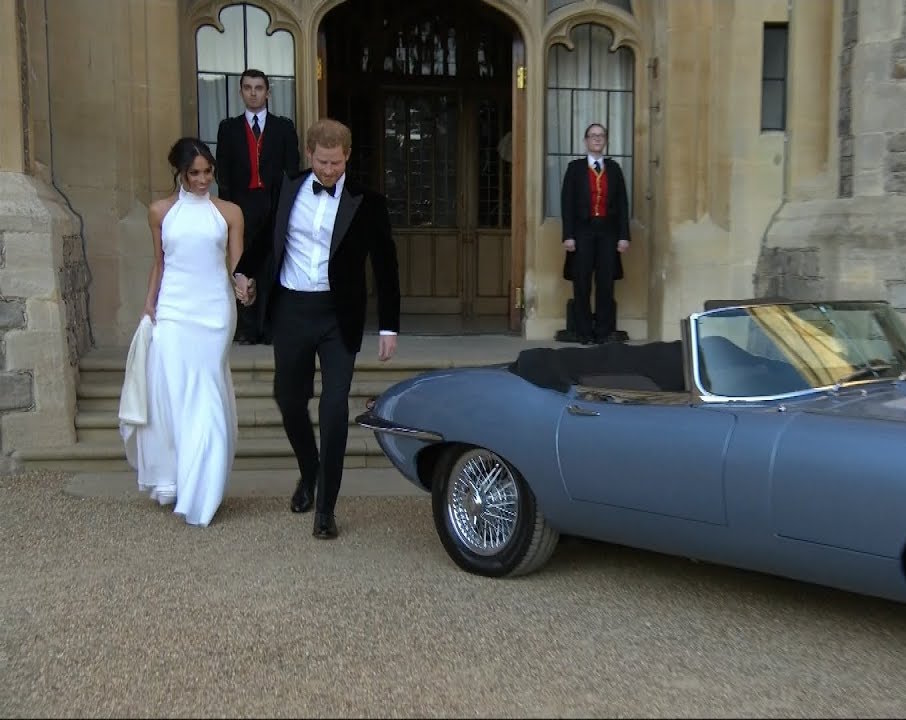 This evening (19th May 2018), the newly married Duke and Duchess of Sussex departed from Windsor Castle to attend their Evening Reception at Frogmore House.  Meghan and Harry invited 250 of their 600 wedding guests to the party.
The couple travelled to the reception in a silver-blue Jaguar E-Type Concept Zero.  The vehicle was originally manufactured in 1968 and has since been converted to electric power.
A video of the couple leaving Windsor castle. It really captures the movement of Meghan's beautiful dress:
About Meghan's Reception dress:
About Meghan's evening look via the Palace:
The Bride's evening dress is designed by Stella McCartney and is a bespoke lily white high neck gown made of silk crepe.

The Bride is wearing shoes from Aquazurra made in silky satin, with nude mesh, with soles painted in baby blue.

Ms. Markle's hair has been styled for the Evening Reception by George Northwood.
Our coverage from earlier today can be found here.
Meghan's ring: Confirmed to be Princess Diana's.
Earrings: Cartier, I believe.
WILL BE UPDATED FURTHER