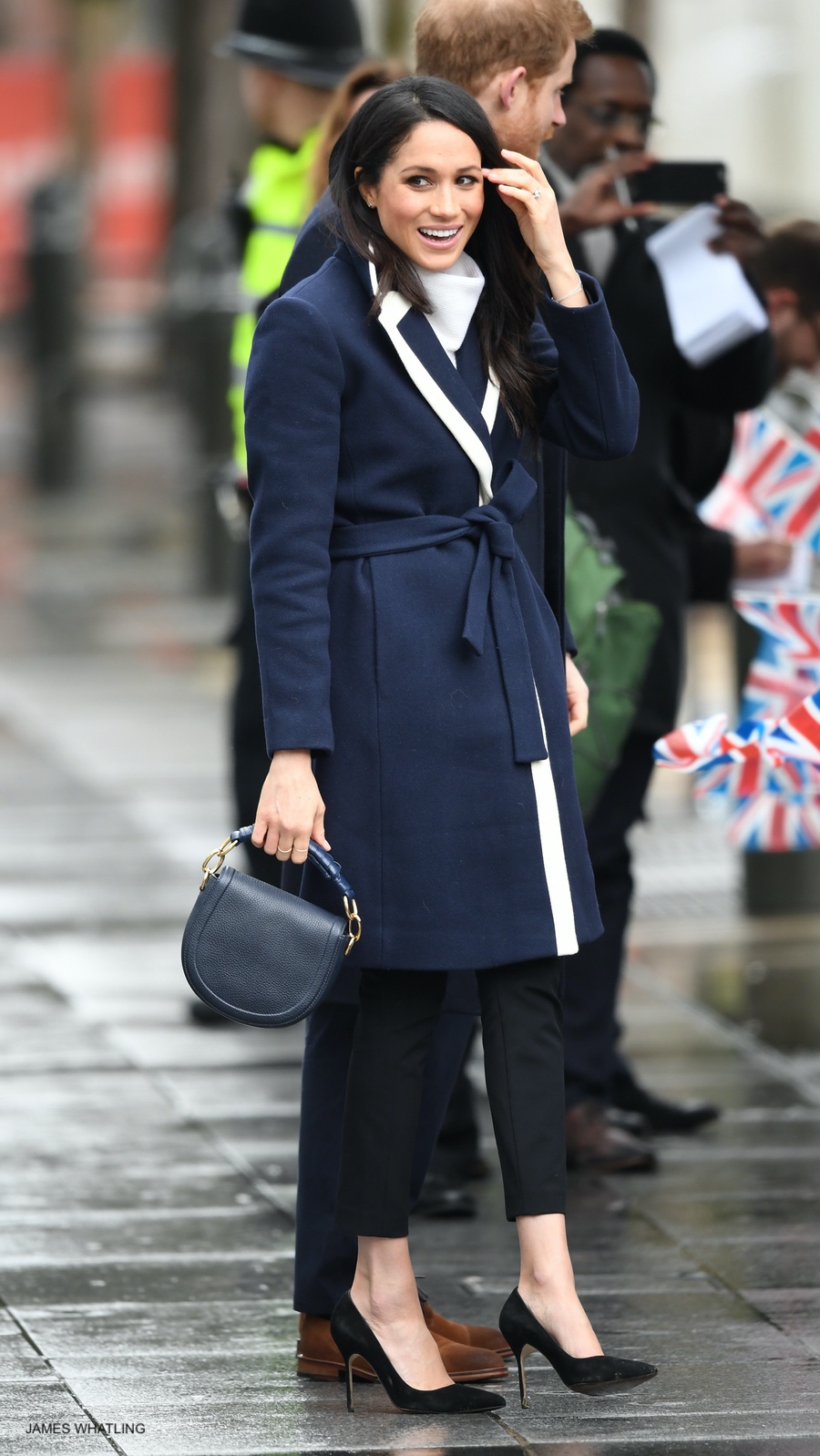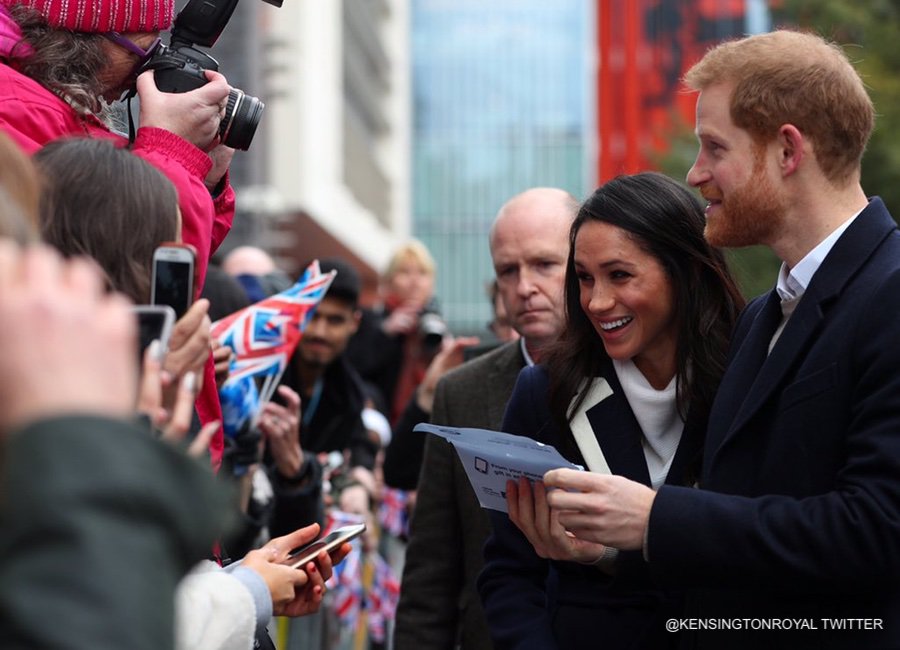 On the 8th March 2018, Prince Harry and Meghan Markle visited the city of Birmingham in the West Midlands of England.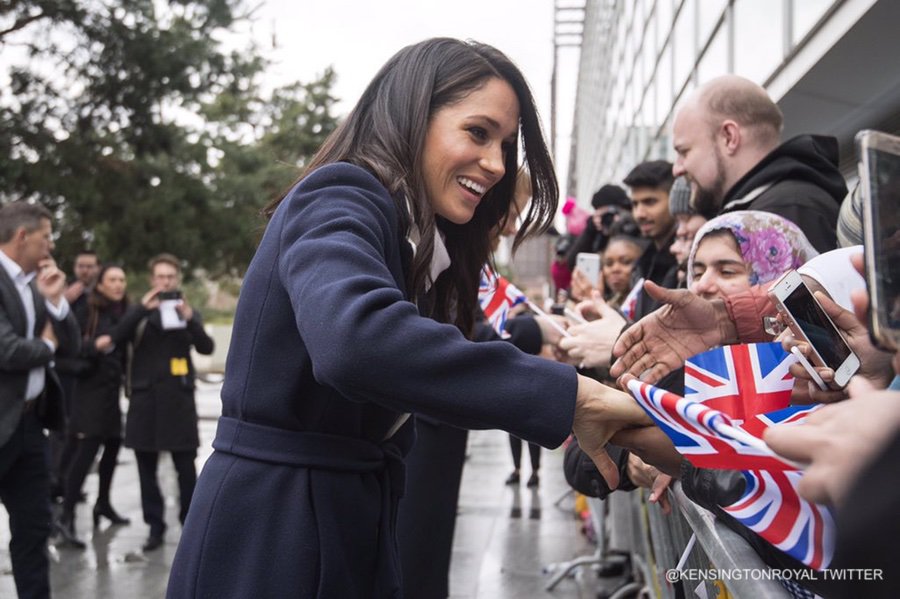 The couple arrived in Birmingham around 11 a.m.  They spent a little time meeting wellwishers.  Here's a photo snapped by Amy Anderson, who was in the assembled crowd: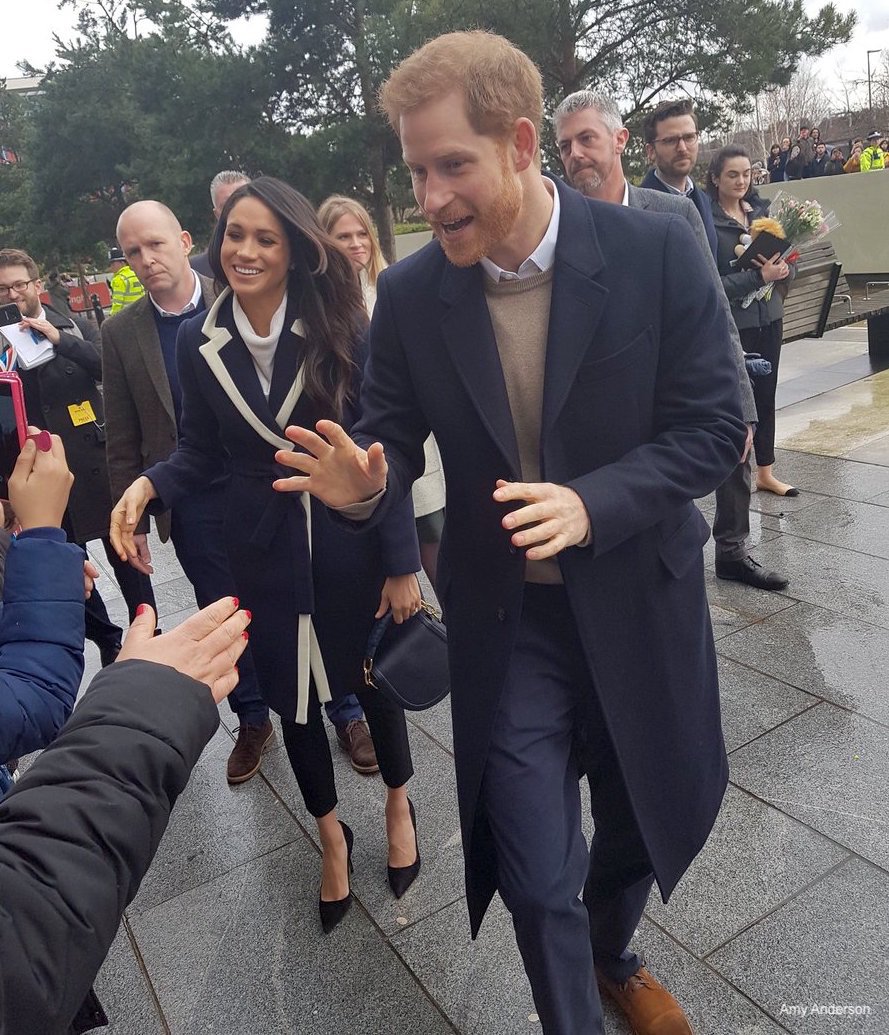 And another: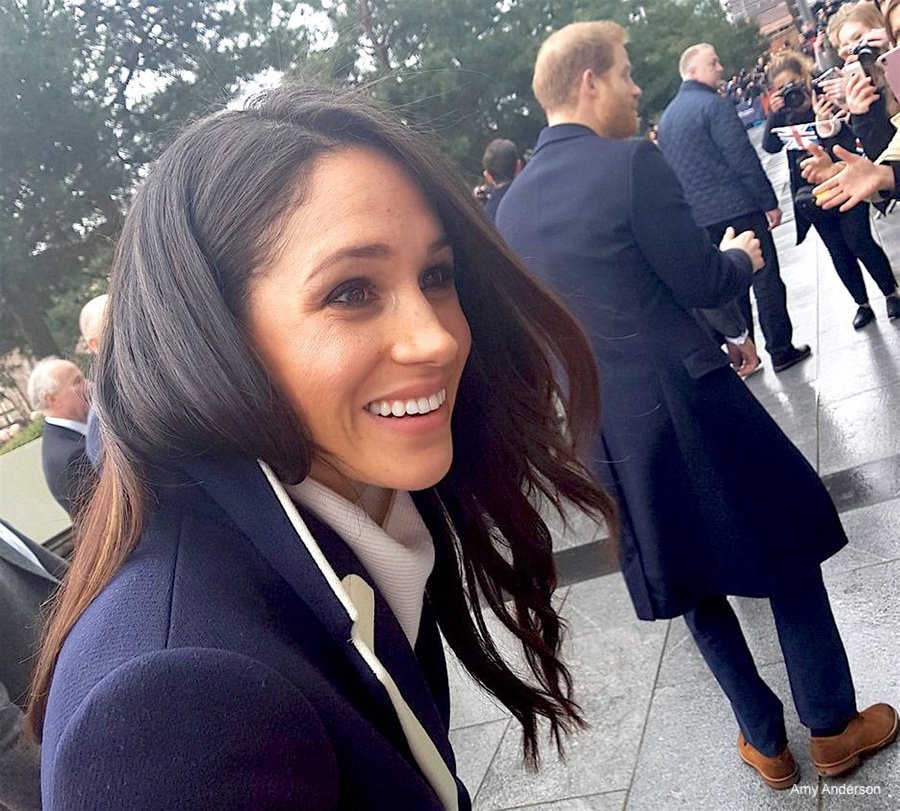 The soon-to-be-married couple were visiting Birmingham to learn about two projects that support young people in the local community.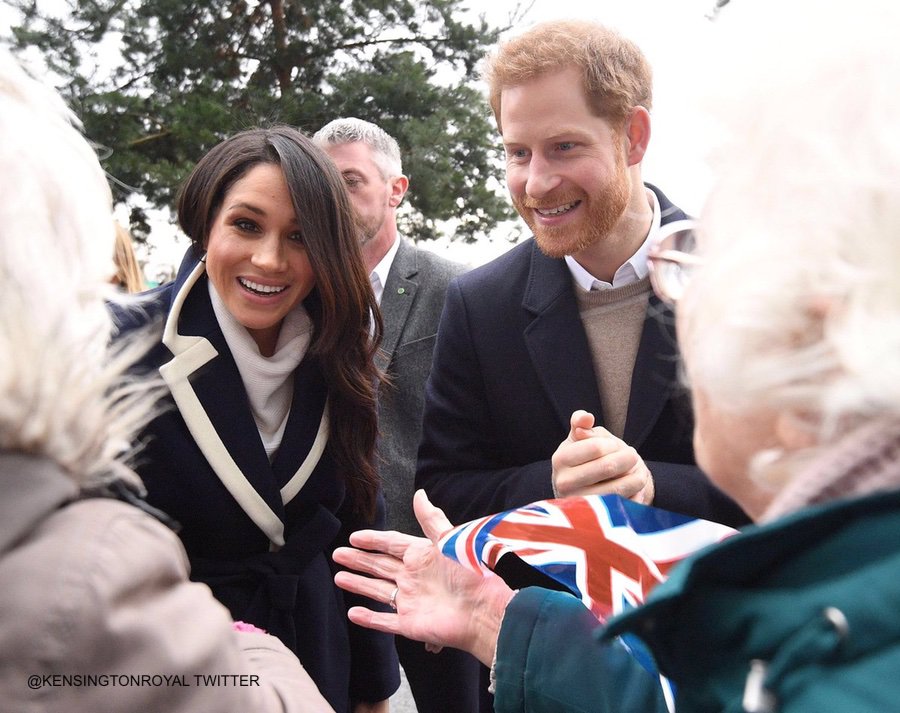 The first project the couple visited was STEMettes, a social enterprise group that encourages girls between 5-22 years old to pursue careers in the fields of Science, Technology, Engineering and Maths (STEM subjects).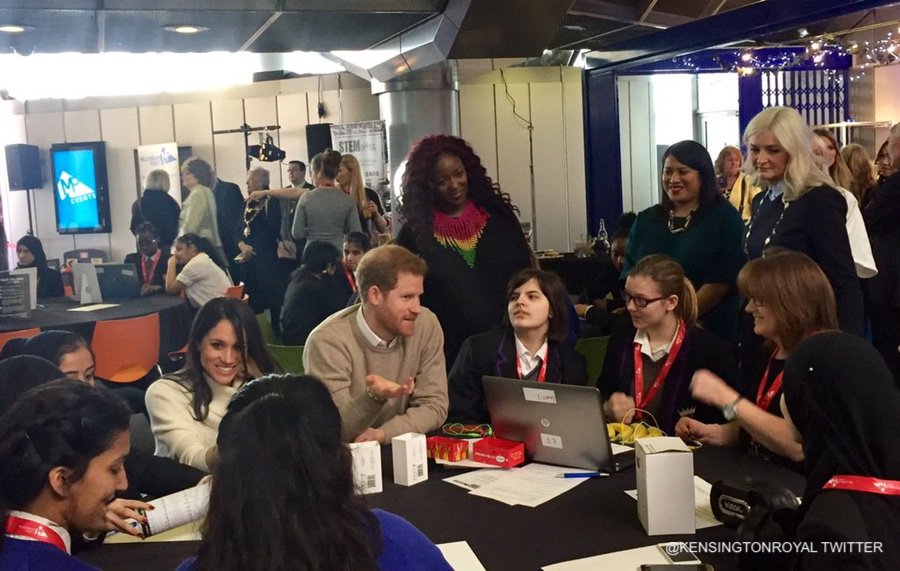 STEMettes hosted an event at Birmingham's Millennium Point to celebrate International Women's Day.  A number of female students from local secondary schools attended the event.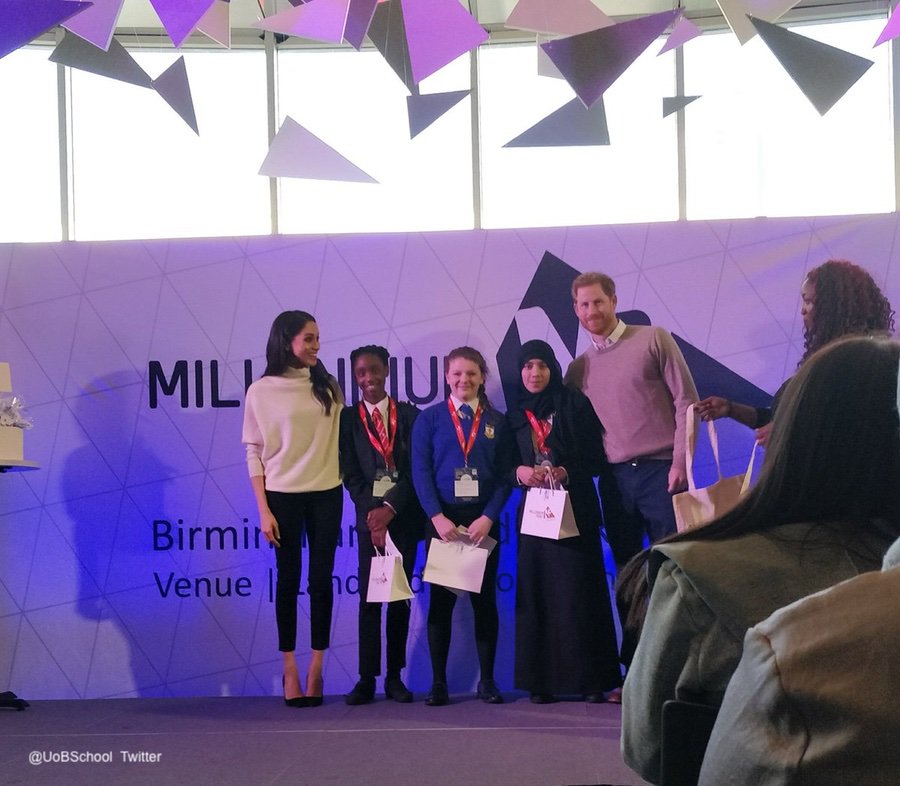 The students took part in interactive activities including a panel discussion and speed networking opportunities with local businesses.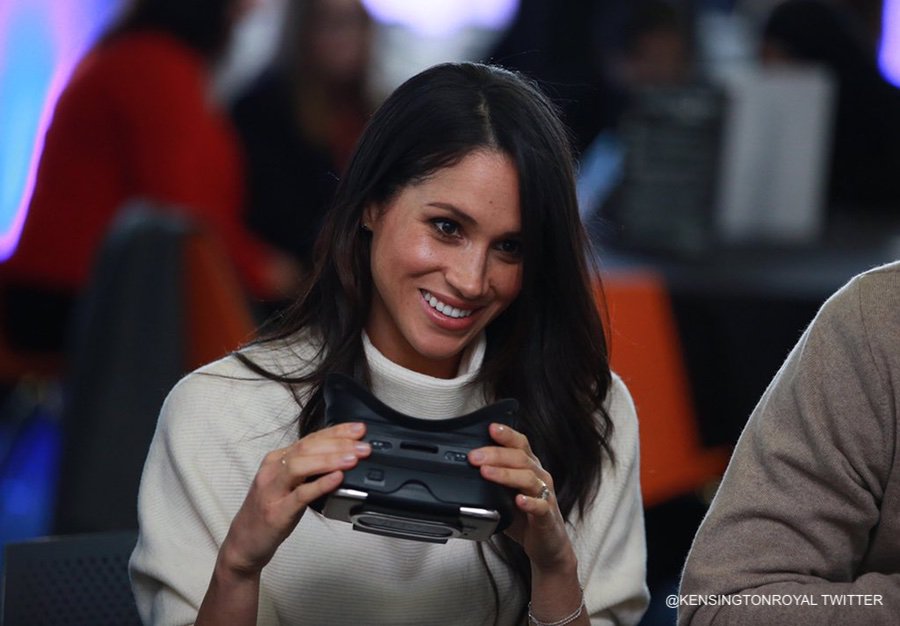 They were also given information on work experience, apprenticeships, A-level choices, and university degrees in STEM subjects.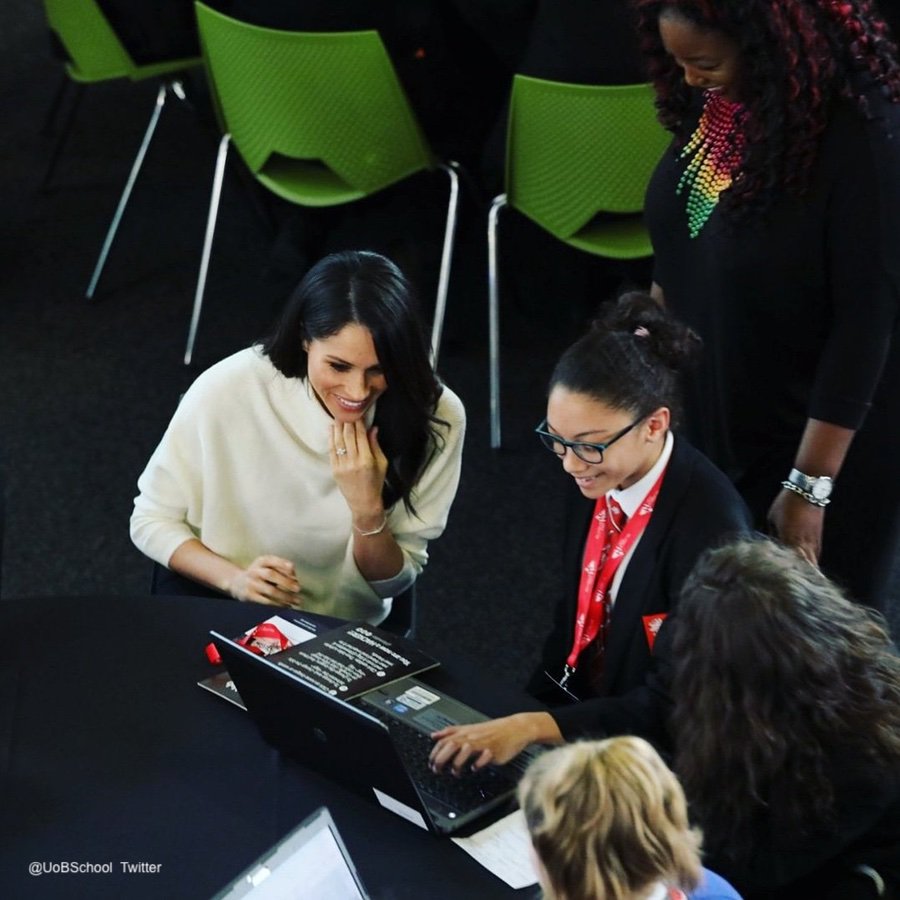 During the event, Meghan and Harry heard from the young women discussing their motivations for pursuing STEM subjects.
Next, the couple headed over to the Nechells Wellbeing Centre for their second visit of the day.  They met staff and apprentices from  Coach Core Birmingham.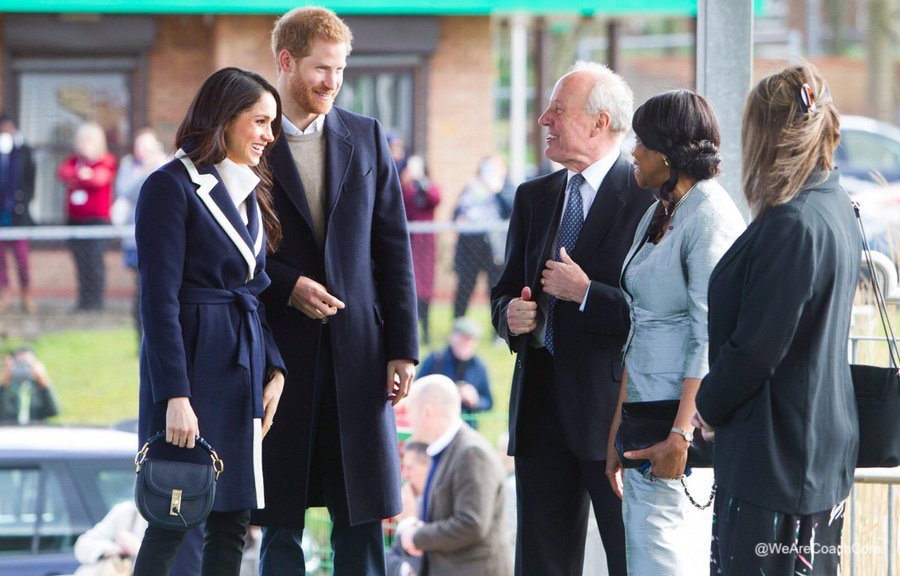 Coach Core is an apprenticeship scheme that trains young people aged 16 – 24 with limited opportunities to become sports coaches and mentors within their communities.  It was designed by William, Kate and Harry's charity, The Royal Foundation.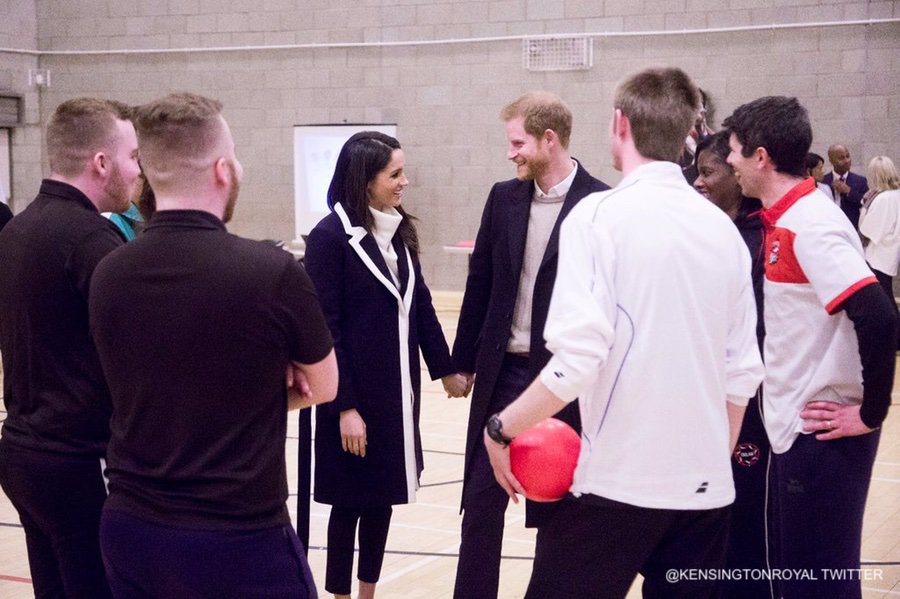 The couple joined apprentices who were taking part in a training masterclass led by Create Development.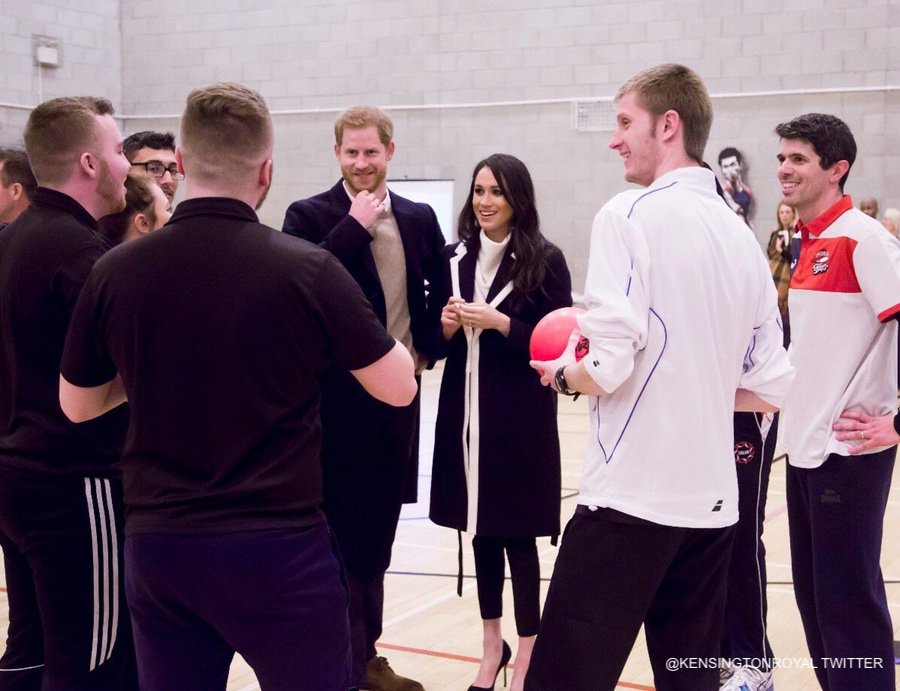 During the visit, Harry and Meghan spoke to apprentices about their experiences of the programme.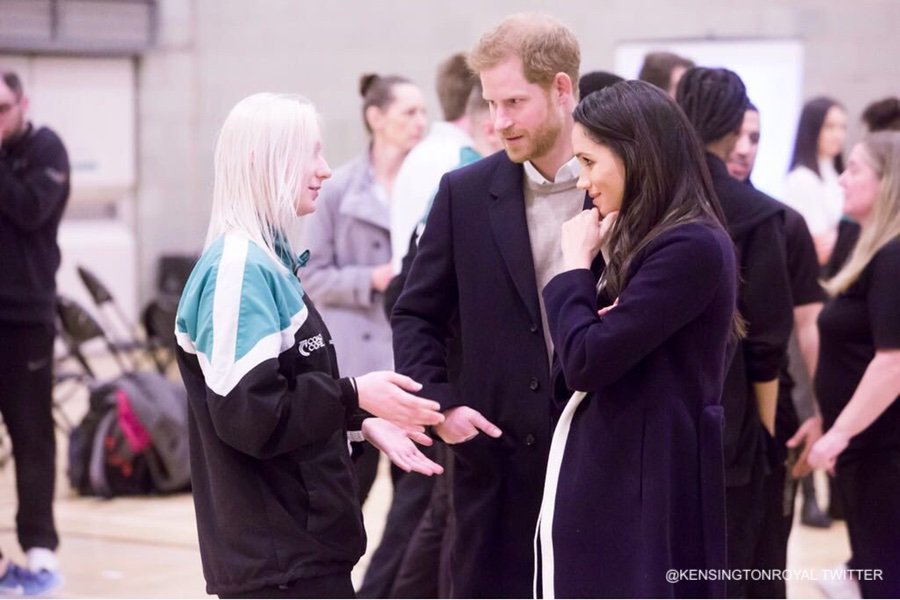 Here's a video of Meghan and Harry meeting people in the crowds ahead of their first engagement. At around 0:55 seconds, Harry meets a very cute dog.  At 1:35, Meghan meets a young girl who hopes to become an actress one day:
Meghan's outfit:
Meghan chose a navy blue and white coat from J.Crew.  It's the American company's tipped topcoat in Italian stadium-cloth wool.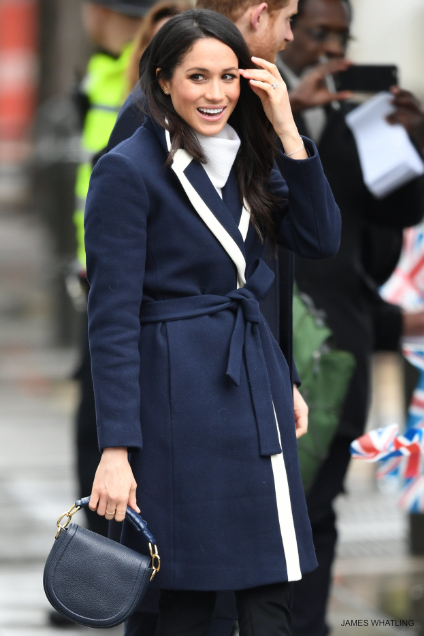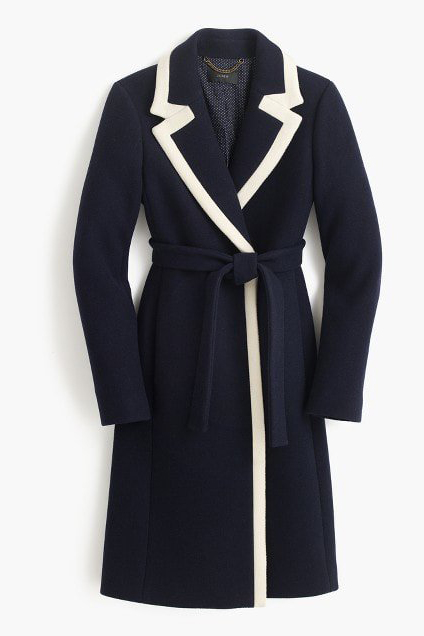 The two-toned wrap coat features a half-moon collar and a tie belt.  Interestingly, the wool fabric is made for J.Crew by the Nello Gori mill in Italy.  It's inspired by the fabric used in old-school stadium blankets.
Due to the "Meghan Effect", the coat sold out within a few hours.  If you must get your hands on the same coat, I recommend trying eBay.  There are several available at different price points.   I also recommend checking the following stockists regularly:  Zalando and Net-A-Porter.  It's likely both companies will relist returns or cancelled orders over the next few days.
UPDATE – J.Crew confirm they will be restocking the coat soon.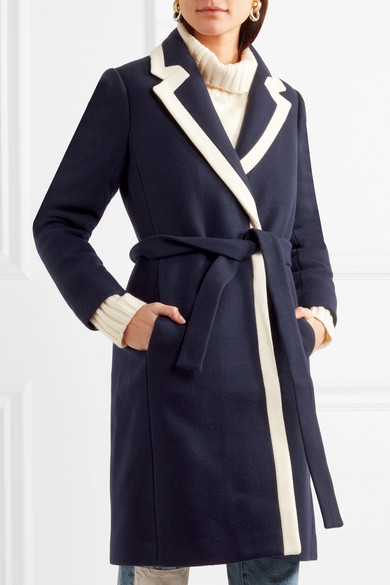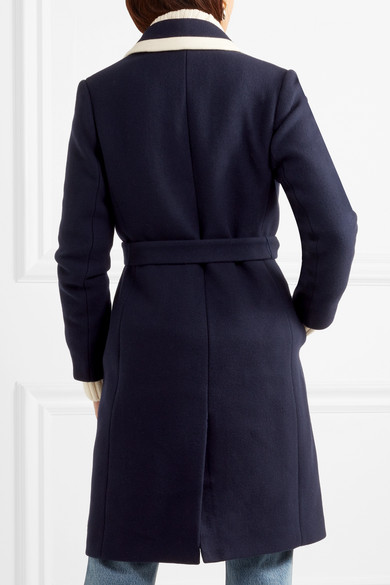 Underneath, Meghan wore a chic cream sweater.  It's the Ridley sweater from All Saints.  (Thank you to Giulia for the ID.)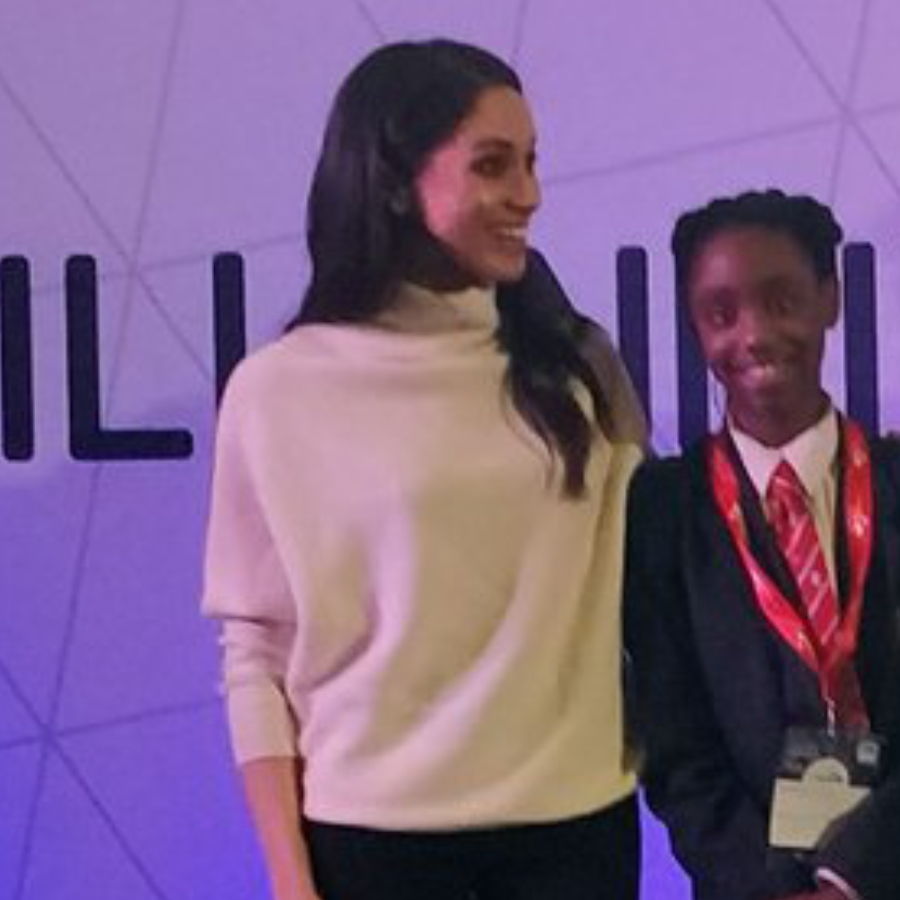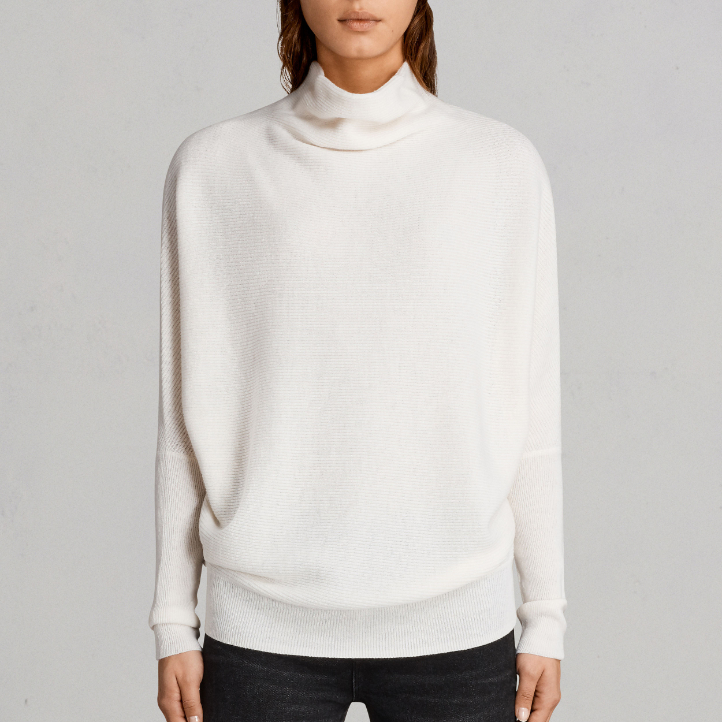 The Ridley Jumper is made from a wool and cashmere blend fabric. Its slouchy funnel neckline and fitted sleeves give the sweater a relaxed fit.  At the time of writing, All Saints have sold out of the cream colour worn by Meghan.
UPDATE, MARCH 10th 2018:  All Saints confirm they will restock Meghan's white sweater.  You can register for a 'restock alert' by clicking here.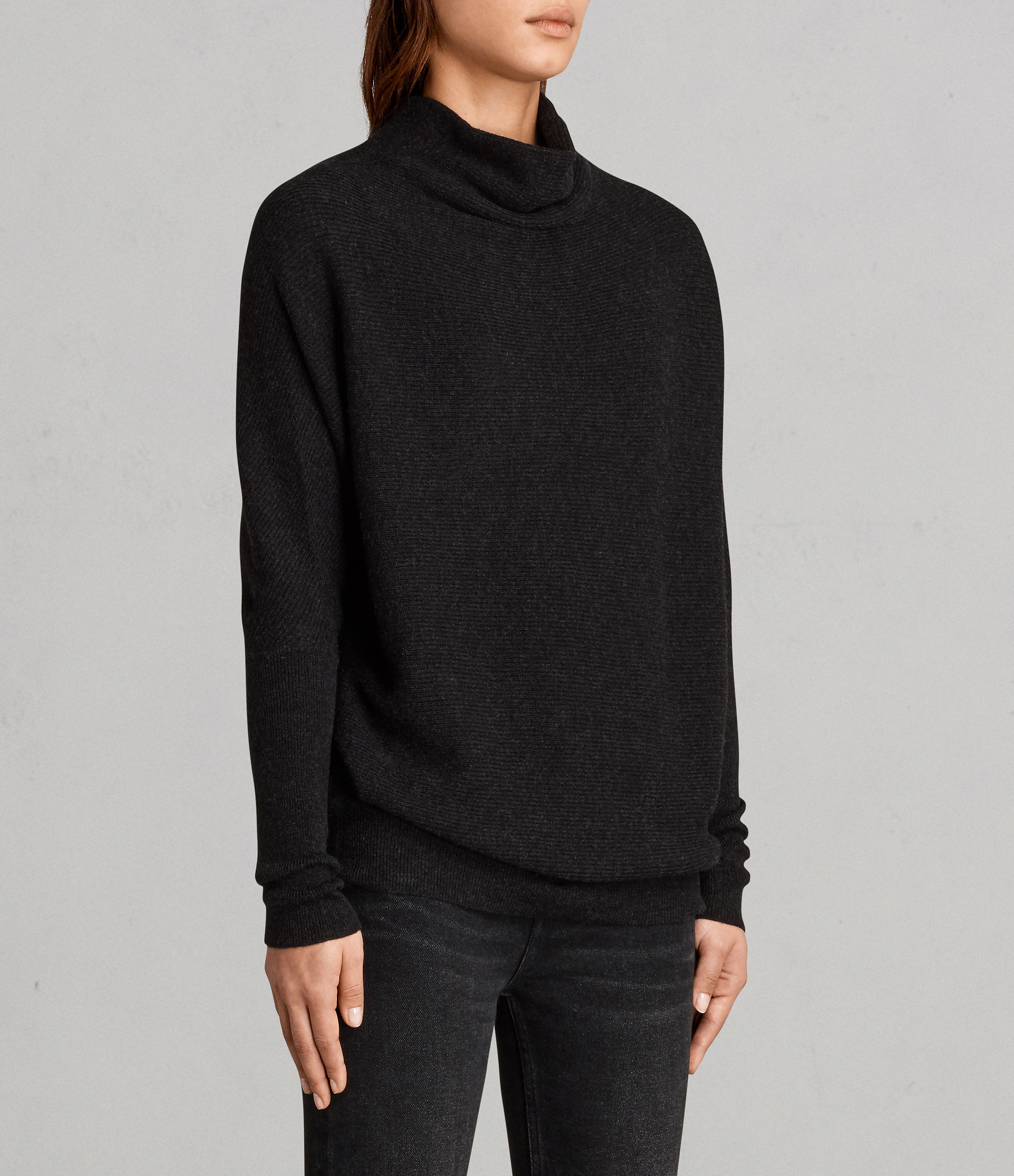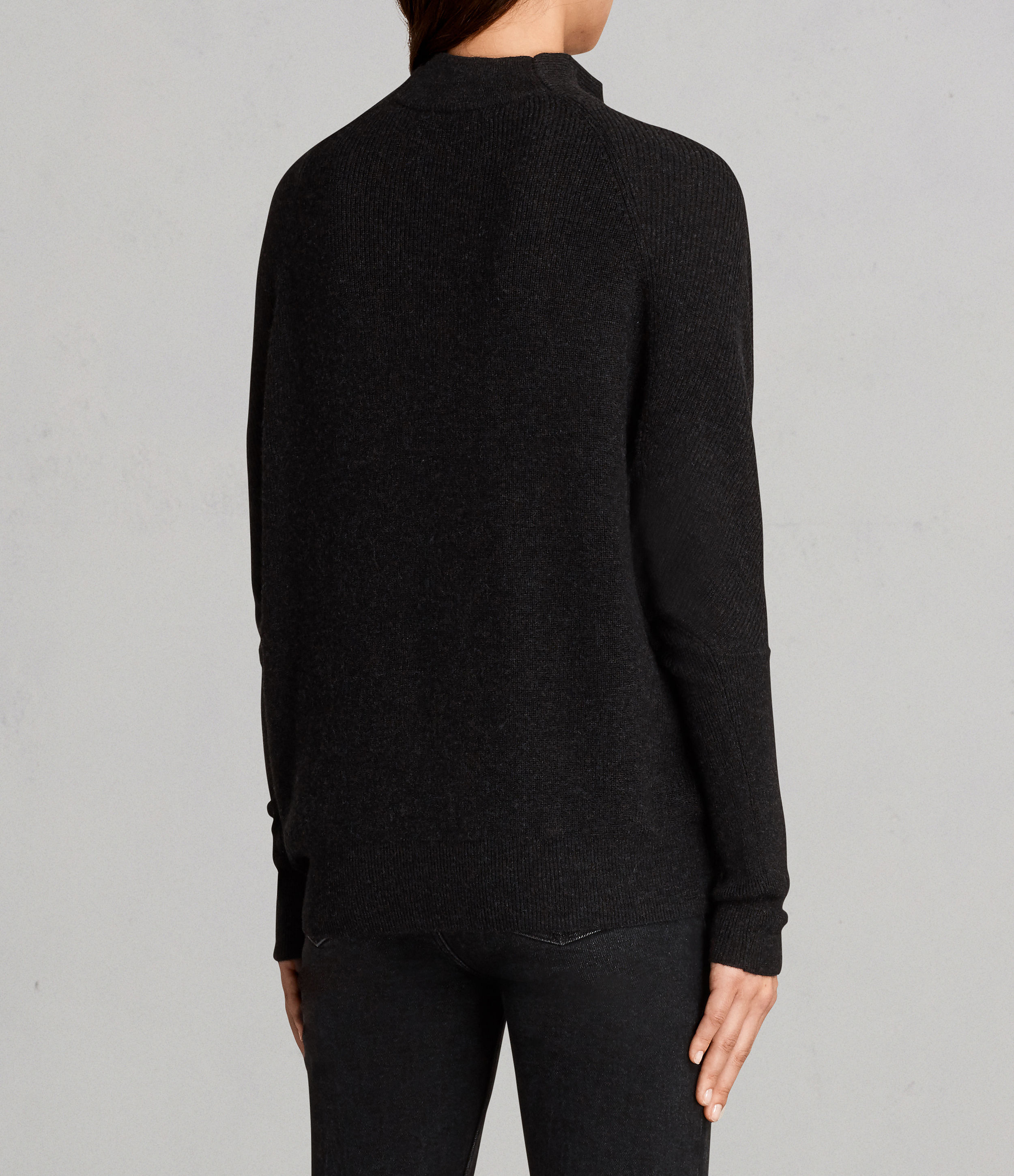 All Saints also stock a few similar sweaters if you're looking for something cosy with a relaxed fit. Try the Jones Sweater or the Mesa Roll Neck Sweater instead: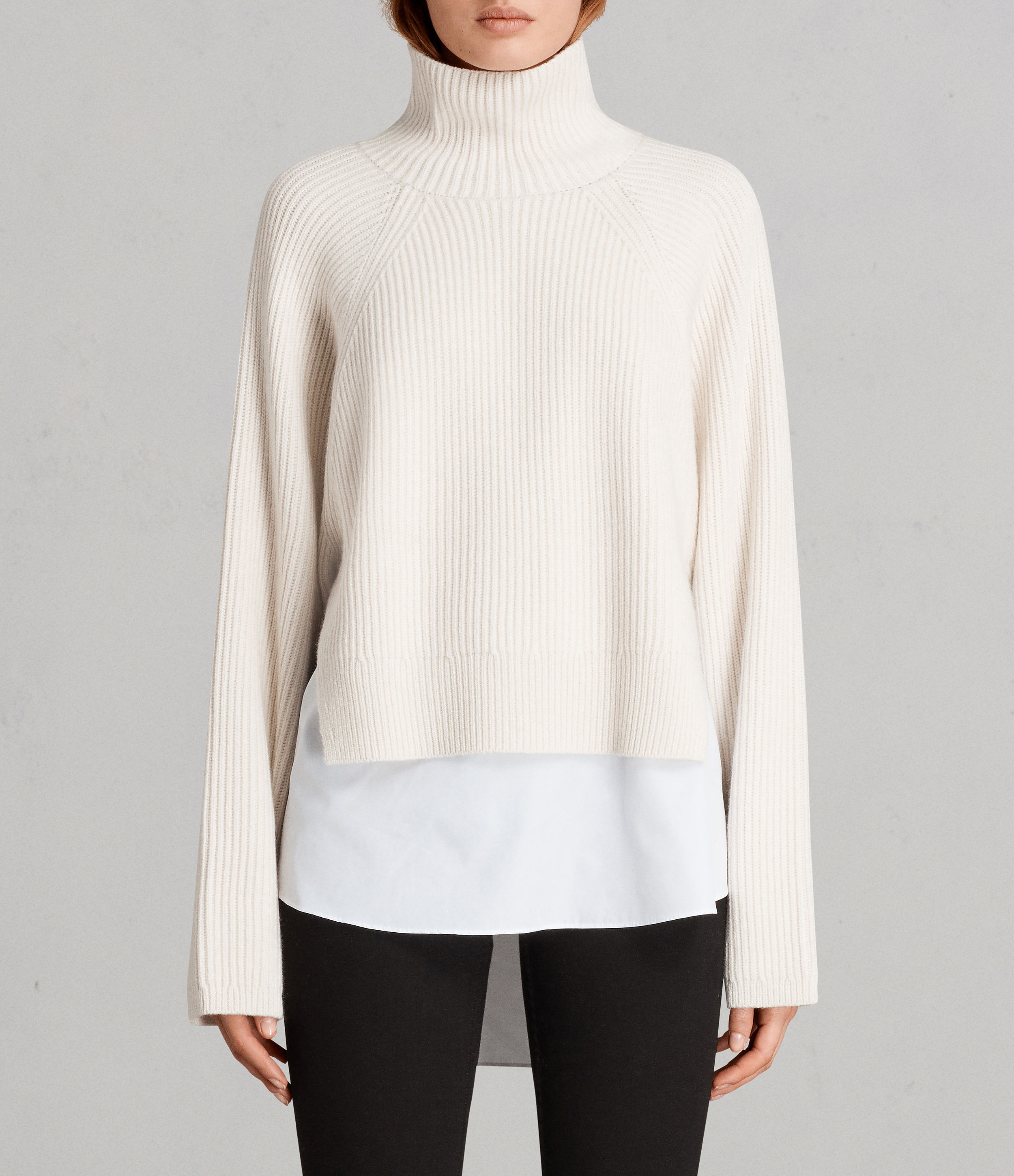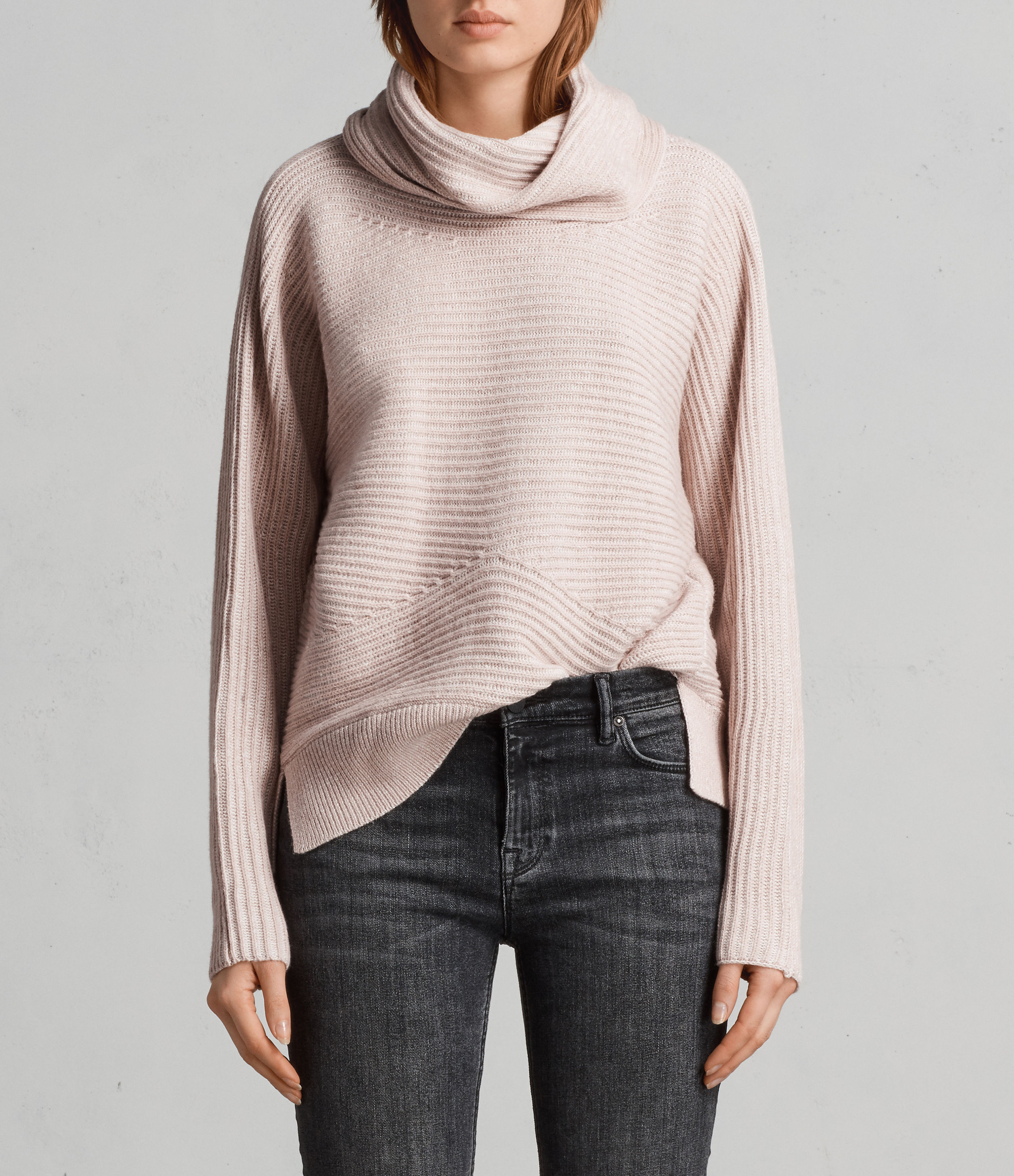 The Palace confirmed Meghan wore a pair of Alexander Wang trousers for the visit to Birmingham.  It's currently unclear which exact style she chose, though Michelle from Perth Fashion believes it could be this pair (shown below).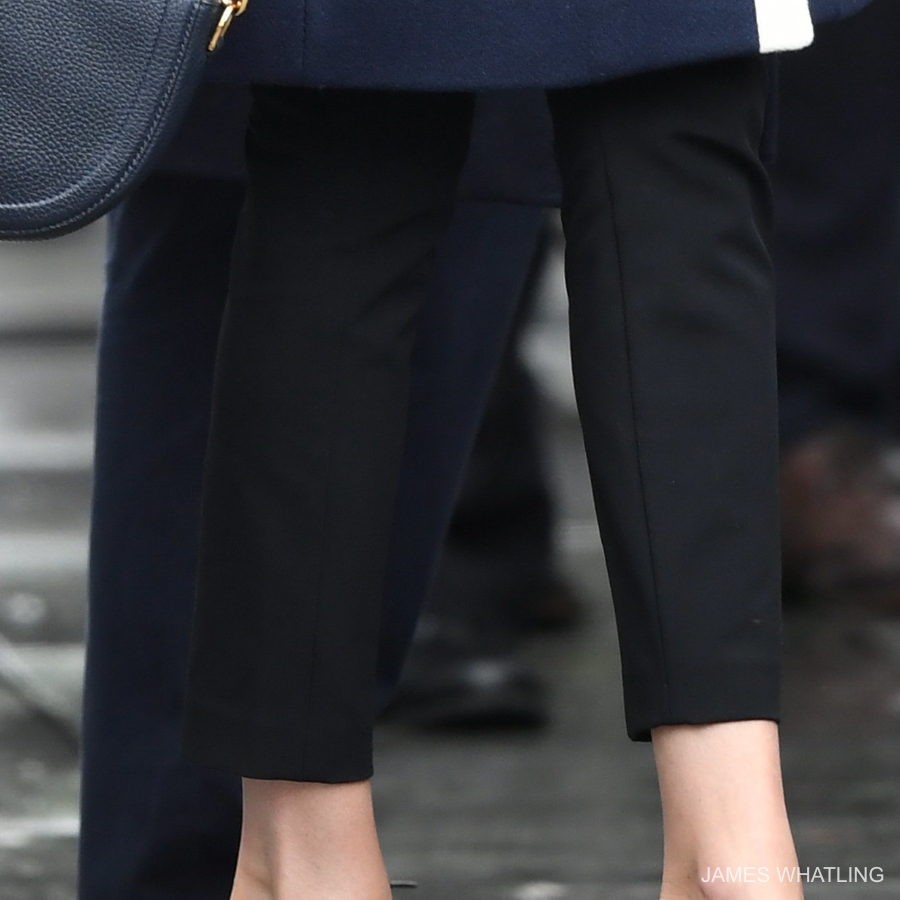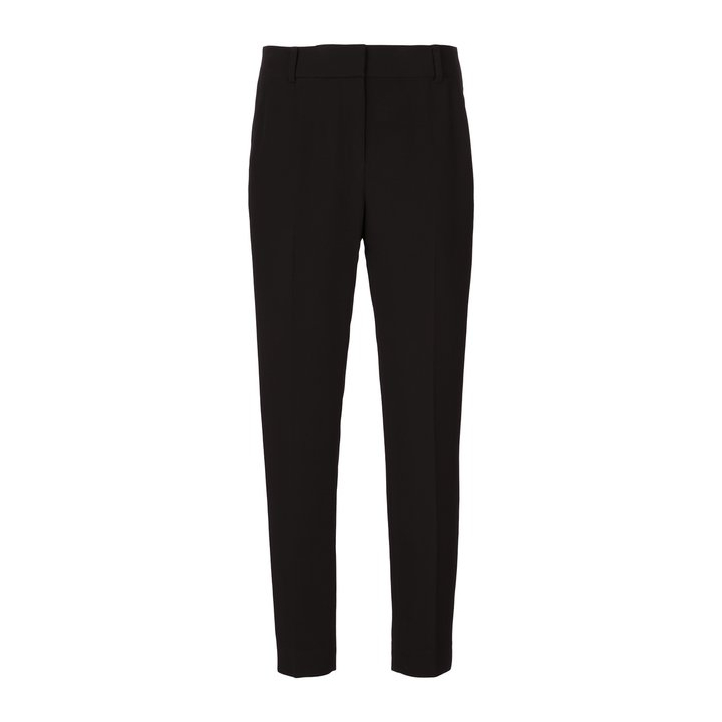 Meghan debuted a new bag during her visit to Birmingham.  It's the Altuzarra Ghianda Saddle Bag.  (Thank you to Michelle and Meghan's Mirror for the ID.)  Meghan carries the bag in navy blue leather, but we've only got a picture of it in black at the moment: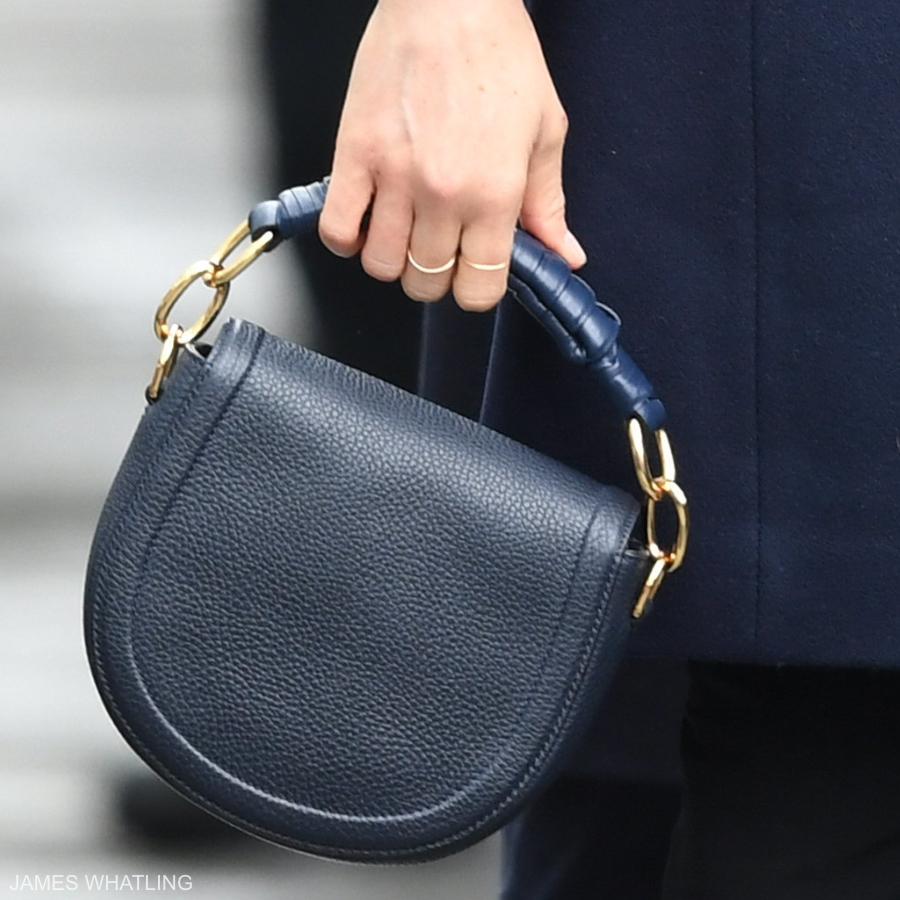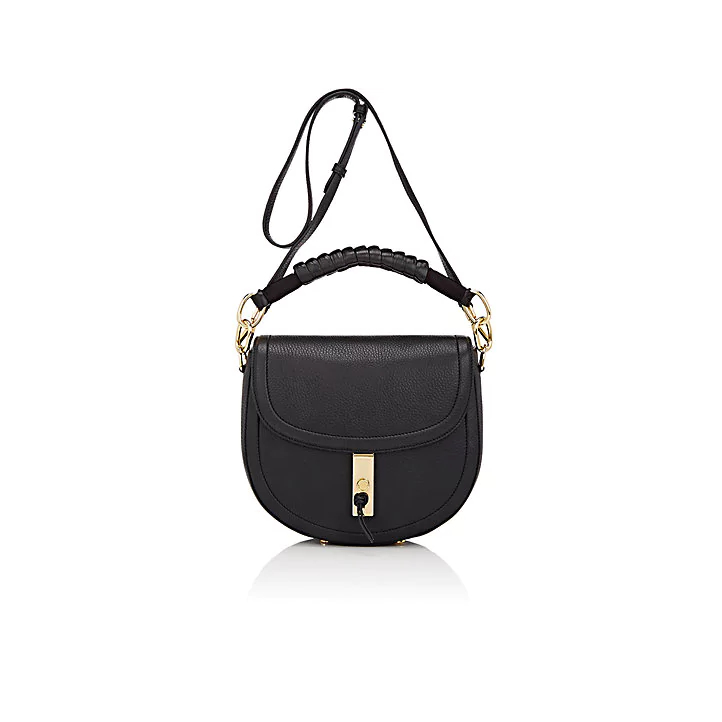 The calfskin bag features a string-wrapped braided leather handle.  It has gold-tone hardware on the closure.  The black leather version retails for $1,595 at Barneys New York.
Meghan bought back her Manolo Blahnik BB pump in black suede.  Thanks to Meghan's Mirror for the ID.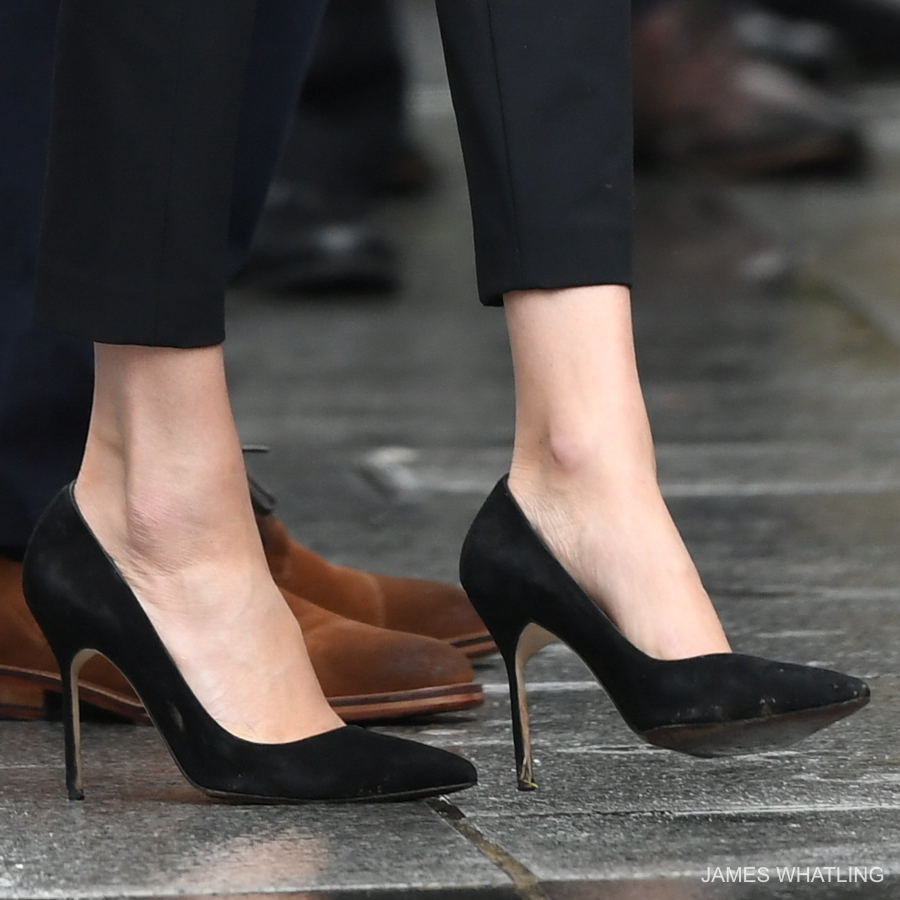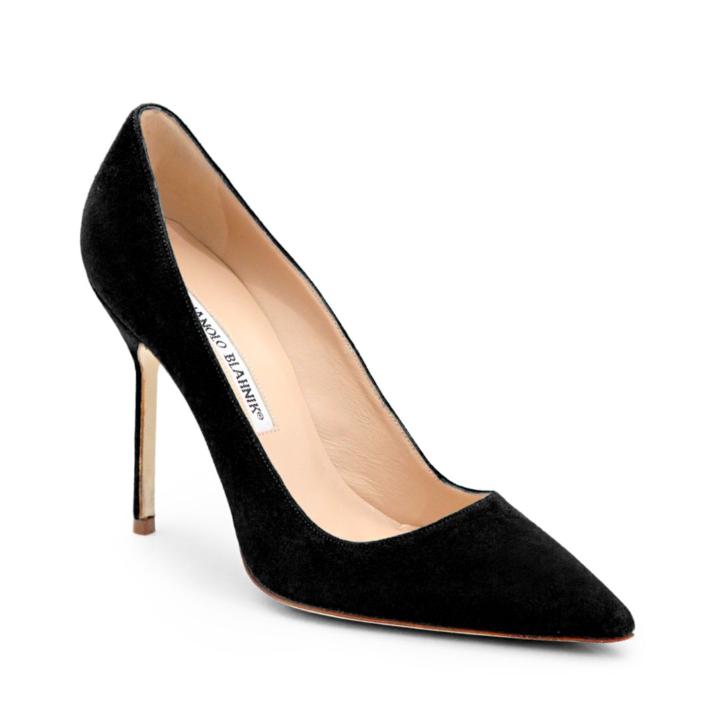 The Italian leather shoes feature a pointed toe and a covered stiletto heel.  Manolo Blahnik makes the BB shoe in a number of different heel heights, but I believe Meghan is wearing the 105mm size.  They come in a rainbow of colours: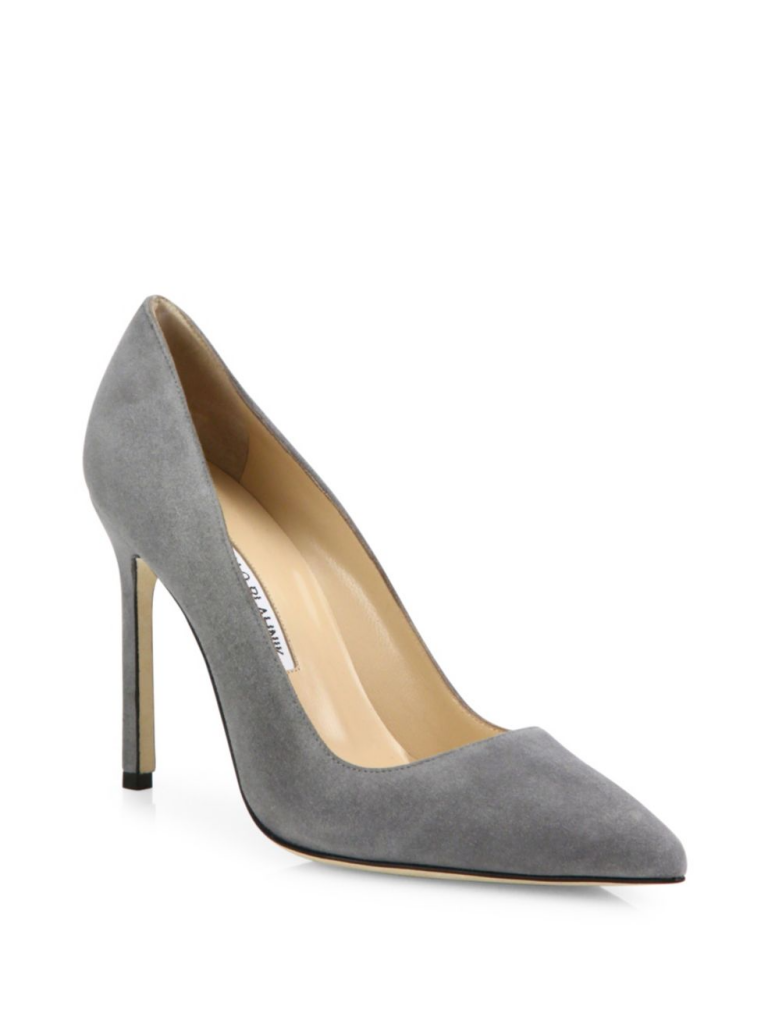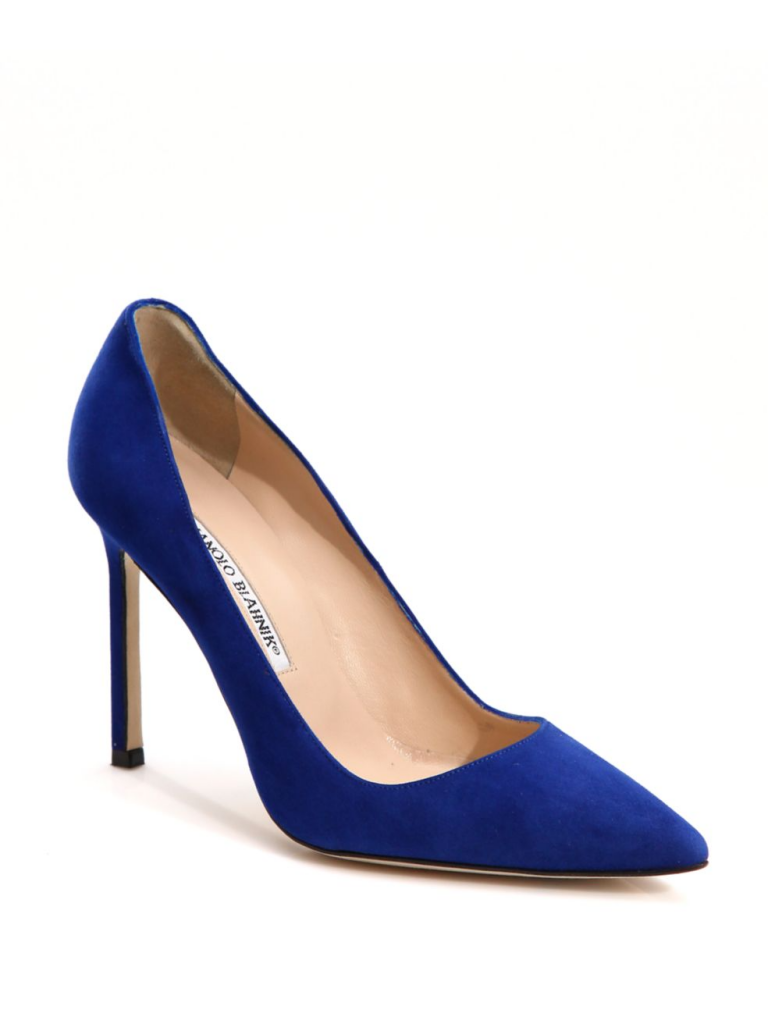 Saks Fifth Avenue sells the shoes in a number of colours, including the black suede colour worn by Meghan, for $625 USD.
Finally, let's take a look at Meghan's jewellery.  The former actress wore a silver bracelet that featured a small cross detail.  What Meghan Wore believes it's a bespoke piece from Meghan's favourite jeweller, Birks.  (Check out the theory at the bottom of What Meghan More's blog post).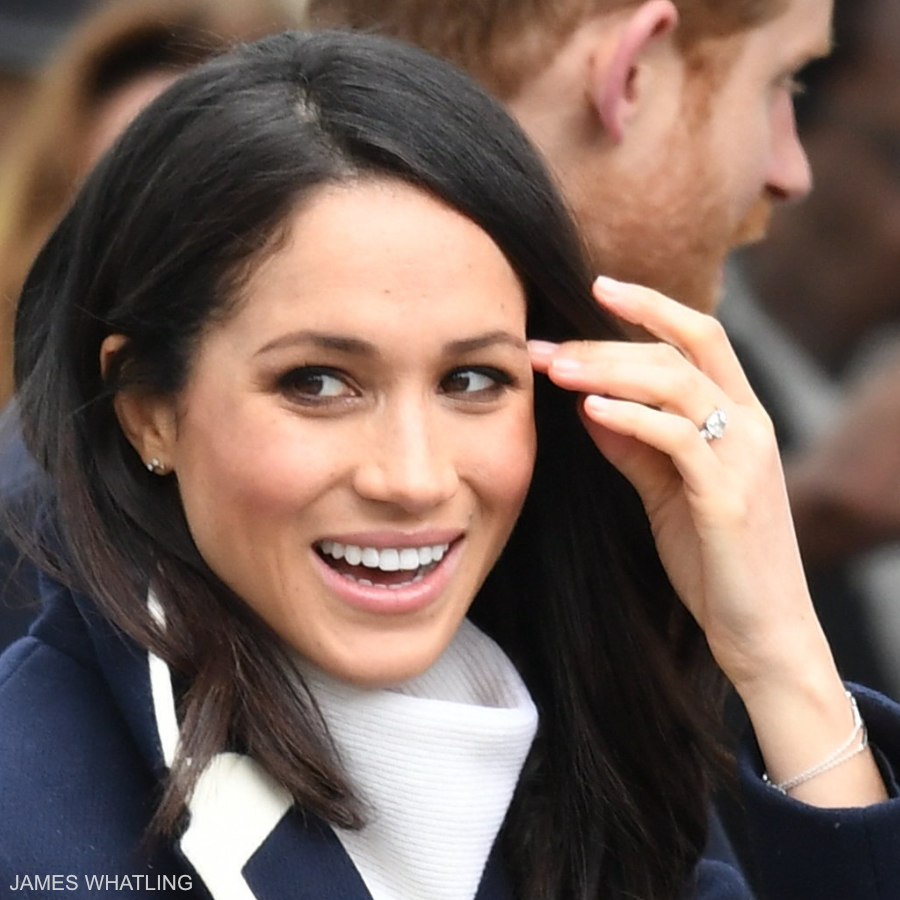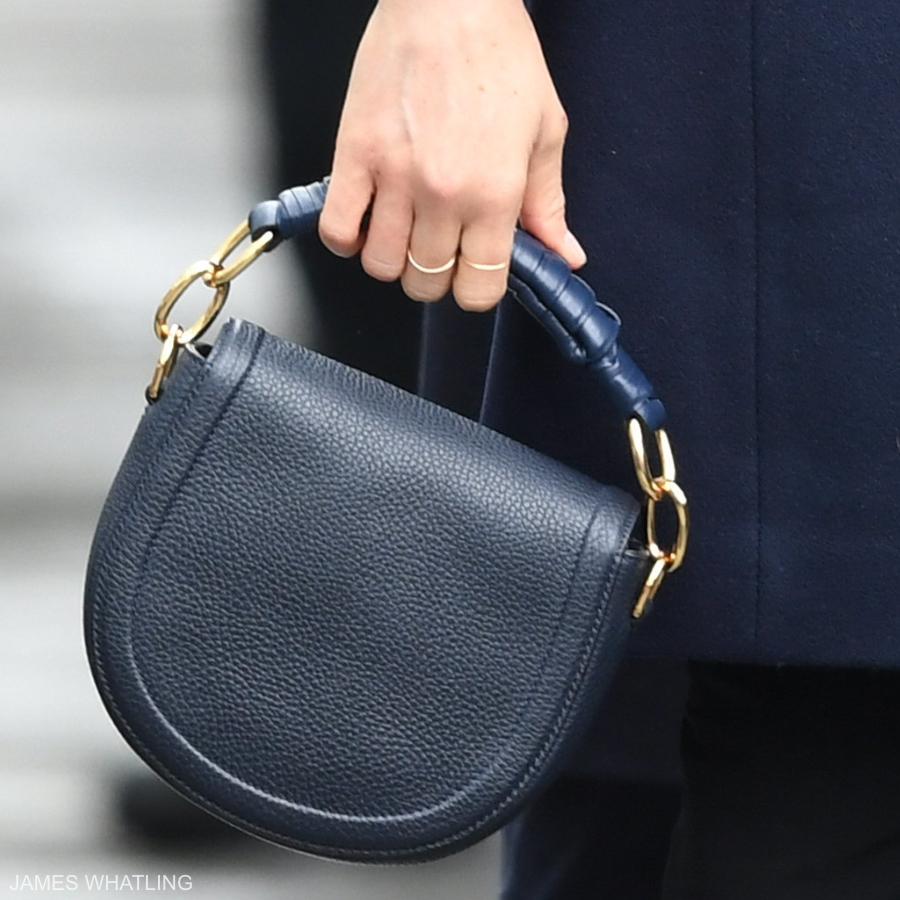 Meghan's (possibly gold) earrings are currently unidentified.  She also wore a couple of thin gold bands on her right hand.